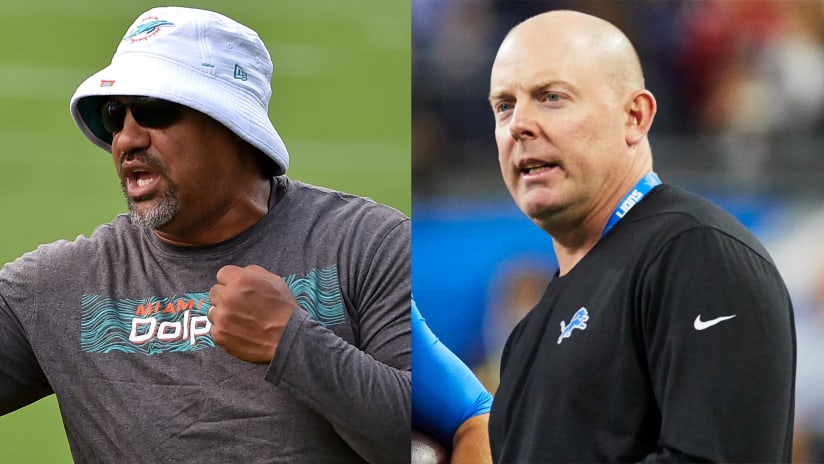 Ok, once again I will say it is hard to criticize Brian Flores when you look at his overall work in his short two seasons as Miami's head coach. He helped change the culture and in this past 2020 season I can say none of us would have thought that Miami would go 10-6.
With that being said, I must say I do not like the idea of dual offensive coordinators. I stick with the belief that anything with two heads is a freak. Has this ever been done before in the NFL? I get that Brian really likes RB's coach Eric Studesville more than I will ever like him because he is on my list of coaches, I have called out hoping he gets fired, but it is obvious Brain Flores sees something I do not.
I do not know Eric Studesville personally but my feelings on him is solely based off the Miami Dolphins rushing stats since Studesville has been here. Adam Gase brought Eric Studesville from Denver in 2018 as Miami's Assistant head coach & running backs coach, he is listed as Miami's Running backs coach & run game coordinator from 2018-20. So, he has been in charge of Miami running game since 2018.
How has Miami's running game stacked up since Eric has been in charge?
In the 2018 season Miami ranked 18th in the league in rushing
Running backs on the roster:
In the 2019 season Miami ranked 32nd in the league in rushing
Running backs on the roster:
In the 2020 season Miami ranked 22nd in the league in rushing
Running backs on the roster:
If you averaged them all the Dolphins have an average ranking of 24th in rushing since Eric Studesville has overseen Miami's run game. That is why I have been calling for his termination!
Eric Studesville has ZERO experience as an OC and has been a RB coach for the majority of his career that spans from being a Graduate assistant for Arizona Wildcats in (1991) he has over 20 years of coaching experience.
George Godsey on the other hand has plenty of experience working as both an OC and QB's coach throughout his 16 years in coaching, he did a good job of working with Tua last season. He has handled his duties as TE coach well as he has helped Mike Gesicki become one of the rising TE's in the game.
The problem with this decision is who takes the blame when things go wrong? Who will be held accountable? Will there be finger-pointing or even worse backstabbing? It just is not the way to go and quite frankly if Flores wants Eric Studesville to get some experience as an OC, he should have promoted him to some assistant role that would rank him the next in line if Godsey failed. You know what I would do with Eric Studesville!
Godsey served as a offensive assistant and TE's coach in New England from 2011-2013 and he also worked with Houston as a QB's coach in 2014 and followed that up as Houston's Offensive Coordinator from 2015-2016and he spent two years coaching Matt Stafford in Detroit as his QB's coach prior to landing with the Dolphins these past two seasons. Godsey truly should be the main guy as our OC if Flores were not going to hire an outside gut to do the job.
They did bring in Charlie Fry to be the QB's coach he is a former Offensive coordinator & quarterbacks coach for Central Michigan (2019–2020) a move I do like because he will be primed to take over if one or both of our dual OC's should be replaced or moves on mutually! (Fired)
Like I said I am not a big fan of this latest move by Flores, but I also was not a fan of firing Chad O'Shea two seasons ago and it concerns me that Flores is having so much turnover in his short stint as Miami's HC as continuity is very important when developing a young team and QB if that is the way the Dolphins go…. all I can say is, if it works Brian is a genius and expect copycats in the following years to come and if it fails it will be one more reason why they fired Flores in the future as we know that is an inevitability for NFL coaches…stay tuned!
Please help create better content in the future as well as giveaways such as upcoming TDS T-Shirts, Game Tickets, Giveaways, and cashback opportunities. For as little as .99 cents a month you can contribute to the growth of TDS and the podcast.
So click on the sponsor, there are 3 monthly price ranges to choose from .99 basic content /4 .99 with special content with more giveaways / 9.99 premium that will get you even more special content as well as many more giveaways others will not enjoy! (Click Here To Support!)
PLEASE GRADE THE ARTICLE AT THE TOP (1-5 STARS)!
(((((((COMPUTER GENERATED WEEKLY PREDICTIONS IN LATEST PODCAST))))))))
((((Please support my site by listening to my podcast I have sponsors!))))
Get This Weeks Prediction On TDS PODCAST!