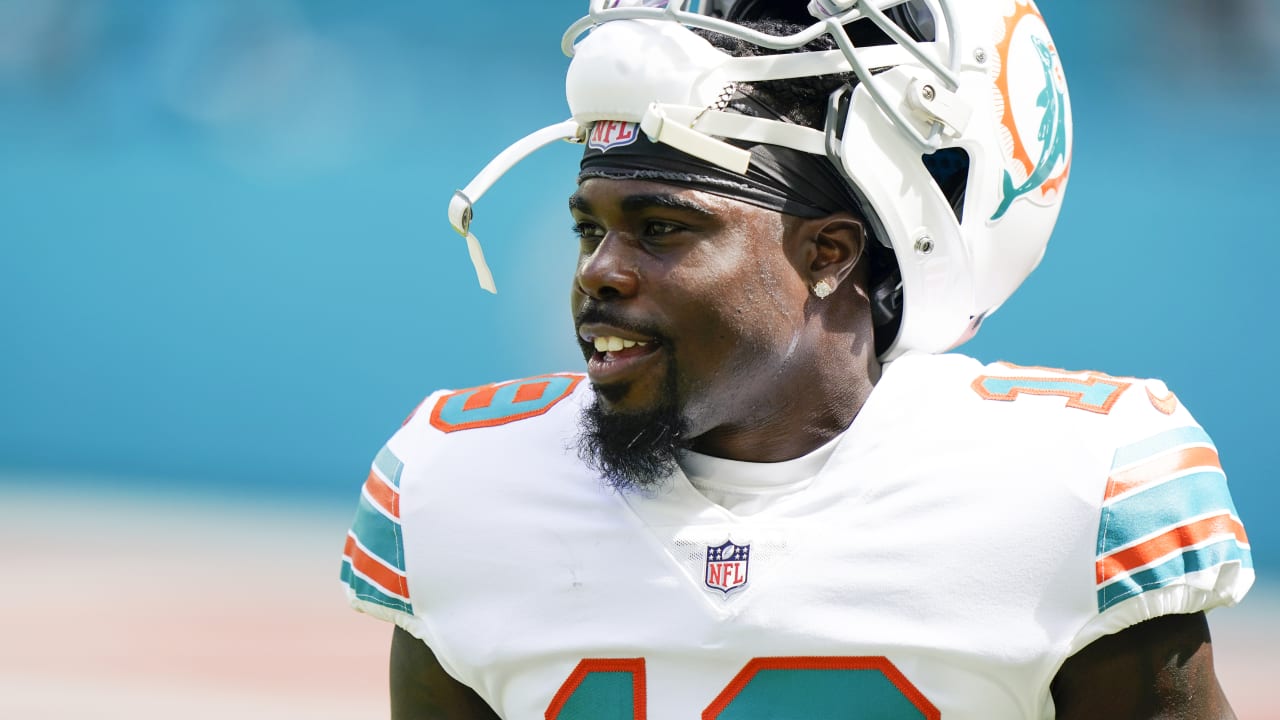 After muffing and fumbling a punt this past Sundy, Jakeem Grant was traded to the Chicago Bears for a six-round pick in 2023!
It had to happen even though he was one of my favorite players. Grant's play in our last game against the Colts epitomizes what is wrong with the entire team. As a return man he is one of the best in the league but as a receiver he has stone hands, and his diminutive size will always be a concern for injury (He has held up well).
Grant's only value was that of a return man and because he has been unreliable in his primary responsibility, what value does he bring? He was listed as a WR but if you look at Miami's WR core Grant by far was the worst WR on the team. Even at receiver he dropped passes and fumbled the ball.
After starting 1-3 this early season Miami had to send a message and that is exactly what they did by trading Grant. This team has for the first time under head coach Brian Flores underperformed, expectations were high after a 10-6 2020 season and landing in 2nd place in the division.
But just like every season in Brian Flores' young career as head coach his team has started off slow. The difference this year is that there are High Expectations, and this team seems lost and plays lethargic. There are plenty of fingers to point out too as to why this team is struggling Coaching, Offensive Line, Defensive line, QB's just to name a few and the coaches behind those units need to also be put on notice.
After losing to the Colts and being blown out in their home opener, Brian Flores had no other choice but to send a message! The Dolphins, thanks to team owner Steven Ross, is a classy organization and does all it can to pamper their players. Just this last offseason our Miami Dolphins opened a brand new $135M practice facility with a Players lounge, palm trees, and a slide. They are paid well and all that they need to do is play well. 
So far that has been anything but the case as they have stumbled & fumbled their way out the gate 1-3 again. Now part of this could be because the teams they have played are better than Miami currently are so maybe expectations are too high. The problem is that the Dolphins losses to Buffalo and Indy, both home games were bad. So far at home Miami has been outscored 62-17! 
Now pressure had been applied with the trade of Jakeem Grant and hopefully the players will respond and if not, another message should be sent and players starting positions should be on the line and this off-season could see more changes if things do not turn around and for sure the seats of our GM and HC that is already starting to warm up will heat up even more. 
**********PLEASE DON'T FORGET TO CLICK THE STARS ABOVE ***********
Please help create better content in the future as well as giveaways such as upcoming TDS T-Shirts, Game Tickets, Giveaways, and cashback opportunities. For as little as .99 cents a month you can contribute to the growth of TDS and the podcast.
Please become a sponsor, there are 3 monthly price ranges to choose from .99 basic content /4 .99 with special content with more giveaways / 9.99 premium that will get you even more special content as well as many more giveaways others will not enjoy! (Click Here To Support!)
PLEASE GRADE THE ARTICLE AT THE TOP (1-5 STARS)!
(((((((COMPUTER GENERATED WEEKLY PREDICTIONS IN LATEST PODCAST))))))))
((((Please support my site by listening to my podcast I have sponsors!))))