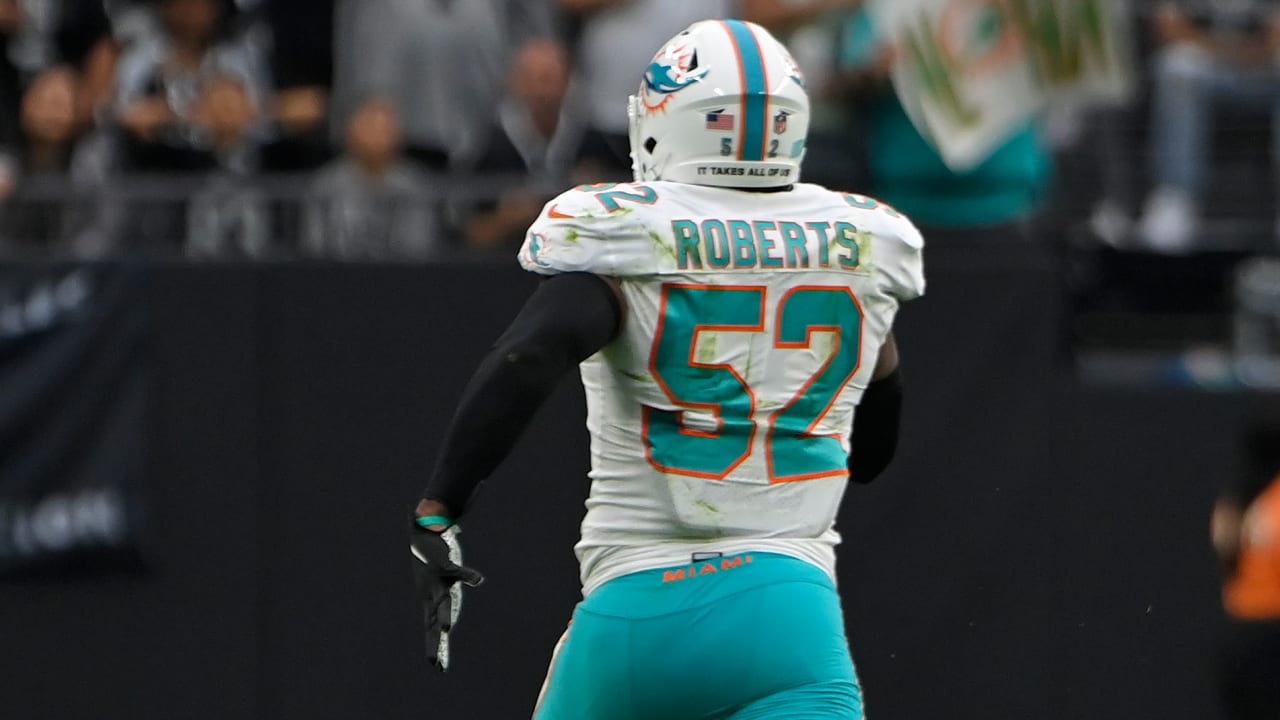 Even though I will never accept losing, if they had to lose that was the way to go down! It was a game I was dreading to see because of the way Miami played in their home opener against Buffalo but I can never miss a game and boy am I glad I did not miss that game. 
The Dolphins played admirably and to go into Vegas and take them into overtime and just barley lose that game was a very welcomed thing to see after the no show the week before. I did not want to make any excuses for the Buffalo loss so I wanted to see how they rebounded from that mediocre performance and I was pleased.
I noticed they did some things I had listed in my preview like starting Malcom Brown and he delivered that power run game to start the game off and thus helped Miami establish the run early and they ended up with 133 yards rushing in that game.
What cost them the game was their inability to score in the 2nd and 3rd quarters as they struggled in those quarters while the Raiders put up 17 points and erased the early lead Miami had, head coach Brian Flores made the point that they need to be more consistent in their play.
I like the team's approach to each game as they take one game at a time and work to make corrections as they grow throughout the season (hopefully better) This game was somewhat of a redemption game as they looked more like the team I was expecting and even though there is much more work to be done they showed all of us that one game will not define their season.
I knew that the first 5 games of the season were the toughest part of their season and to be honest I did feel that they could have started off 0-3 and potentially end up after their first 5 games 3-2 so being 1-2 is not the worst and the next two games can get them at 3-2 or 2-3 but hopefully not 1-4. 
More on the game:
Miami started off fast both defensively and offensively, the Defense forced a 3 and out to start the game and Miami's offense had a drive that stalled just past the 50-yard line. The Raiders on their next drive moved the ball down to Miami's 21-yard line and then the defensive play of the game happened, a play that has improved Miami's consecutive game turnover to 25 games as LB Elandon Roberts picked off QB Derek Carr around the 18-yard line and ran it back 82 yards for the pick six!
Then on the Raiders next drive they decided to go for it on 4th and 1 on THEIR OWN 34-yard line Instead of kicking it away……??? Well needless to say they got stuffed and Miami took over at the Raiders 34-yard line and one handoff later on Miami's first down, Malcom Brown broke through the line and ran it in 24 yards for the TD!!! That put Miami up 14-0.
But the Raiders were not alone on stupid play calls as Miami after another stop by our defense that forced the Raiders to punt and they punted the ball on the one-yard line and a penalty against Miami moved the ball an inch closer to our goal line and then Miami made a stupid call to throw the ball to Jaylen Waddle while he was IN THE ENDZONE and he was targeted by the Raider DB who tackled him in the endzone for the Safety!!! That changed the momentum and it was all in the Raiders favor and they put up 17 unanswered points between the 2-3 quarters while our offense was non-existent!
Miami's offense came alive in the 4th quarter and was able to tie the game and send it into overtime (tied 25-25) and in overtime both teams on their first drives kicked field goals making the score 28-28, the Raiders received the ball as Miami decided to kick on 4th and 1 (I agree with that call) but the Defense was unable to get the ball back and the Raiders win on their 2nd field goal in overtime ending the game, final score 31-28.
This team cam play even better and hopefully they will as they still have some tough games ahead and for Miami there really is no easy games for them because they are young and have yet to establish themselves as a true contender.
We will see how they respond in their next game vs Indy…. next Sunday at Hardrock stadium.
**********PLEASE DON'T FORGET TO CLICK THE STARS ABOVE ***********
Please help create better content in the future as well as giveaways such as upcoming TDS T-Shirts, Game Tickets, Giveaways, and cashback opportunities. For as little as .99 cents a month you can contribute to the growth of TDS and the podcast.
Please become a sponsor, there are 3 monthly price ranges to choose from .99 basic content /4 .99 with special content with more giveaways / 9.99 premium that will get you even more special content as well as many more giveaways others will not enjoy! (Click Here To Support!)
PLEASE GRADE THE ARTICLE AT THE TOP (1-5 STARS)!
(((((((COMPUTER GENERATED WEEKLY PREDICTIONS IN LATEST PODCAST))))))))
((((Please support my site by listening to my podcast I have sponsors!))))