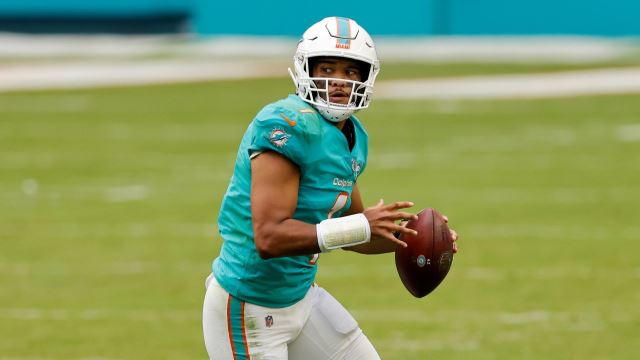 I had listed Jacoby Brissett as a free agent target for Miami back in March 2019 in fact that was my 2nd pich on Brissett Jacoby Brissett Is Still My #1 Option. At the time I felt he would be a nice replacement for Ryan Tannehill and his history as a Patriot ment that he and Brian Flores had some knowledge of each other. The fact that Miami did not pursue him at the time said a lot to me. I wrote that article just before the 2019 NFL draft and I actually liked the moves made over taking Brissett at that time and I will discuss those moves and the irony that we know have Brissett on the roster rather than the one player I feel should still be here instead of Jacoby as Miami's backup QB.
So here is what happened shortly after what I wrote back in March of 2019. On March 18, 2019, Fitzpatrick signed a two-year contract worth $11 million with the Miami Dolphins. I liked this move as I felt Fitzpatrick was the best option as a transition QB for Miami as they just had moved on from Ryan Tannehill.
Also on Apr 25, – Apr 27, 2019 during the NFL draft the Dolphins went into the draft knowing they needed a young QB for the future. In the 2nd round they struck a deal with Arizona who traded QB Josh Rosen to Miami for a second-round pick and a 2020 fifth-round selection.
The Dolphins finally acquired a young QB prospect from the Cardinals who bailed on Josh Rosen after a coaching change and the new HC wanted to draft Kyler Murry. So the Dolphins acquired a young QB who had just been drafted a year earlier in the first round of the 2018 NFL draft taken 10th overall.
I actually liked the pick and felt that if Miami could develop Rosen and let him sit a year or two behind Ryan Fitzpatrick. Unfortunately the Dolphins had other plans and decided to draft Tua Tagovailoa in the 2020 draft.
As far as I was concerned that was ok but I also felt Miami would be wise to hang onto 3 QB's last year and continue to develop Rosen and Tua and have this year's camp about those two young QB's battling it out for the starting position in Miami. Miami decided to just release Rosen, maybe his camp requested his release so he could make his own choice of the team he could play for.
I on the other hand felt it would have been a wise move to keep Rosen and let him and Tua play behind Ryan Fitzpatrick last season and then have a legitimate competition between Rosen and Tua this year with one of them being on the trading block and Miami would have been in position to sell one of them for a high draft pick.
Ideally Tua would win that competition but with both of them pushing each other as the saying goes Iron sharpens Iron and Rosen's value would have been high and teams looking for a young future QB would have been waiting in line to trade for Rosen.
Don't get me wrong I like that Jecoby is now in Miami, but I would have been happier had Miami continued to develop Rosen and increased his value and gotten at the worst the 2nd ronder they gave up to get him.
Growing up in Packer Land I remember how former Packer GM Ron Wolf truly understood how to take a young QB and develop them and trade them for great value. I would call that Packers QB University and I fell the Dolphins missed out on that opportunity with the way they dealt with Josh Rosen.
What do you think? Comment below…..
**********PLEASE DON'T FORGET TO CLICK THE STARS ABOVE ***********
Please help create better content in the future as well as giveaways such as upcoming TDS T-Shirts, Game Tickets, Giveaways, and cashback opportunities. For as little as .99 cents a month you can contribute to the growth of TDS and the podcast.
Please become a sponsor, there are 3 monthly price ranges to choose from .99 basic content /4 .99 with special content with more giveaways / 9.99 premium that will get you even more special content as well as many more giveaways others will not enjoy! (Click Here To Support!)
PLEASE GRADE THE ARTICLE AT THE TOP (1-5 STARS)!
(((((((COMPUTER GENERATED WEEKLY PREDICTIONS IN LATEST PODCAST))))))))
((((Please support my site by listening to my podcast I have sponsors!))))
Get This Weeks Prediction On TDS PODCAST!