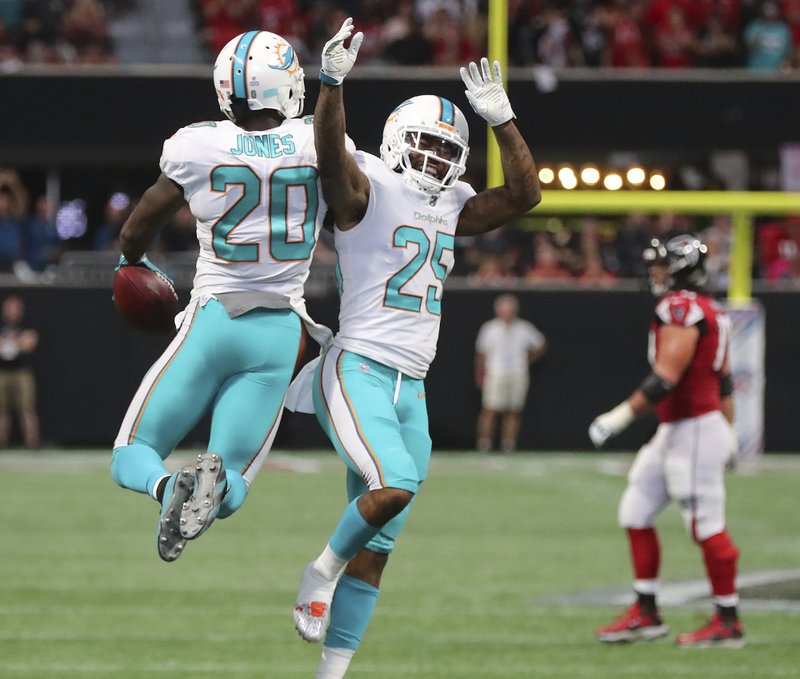 I have made it known for quite some time that Xavien Howard should be traded because I knew he would do exactly what he is doing, it is so like what the Dolphins had to deal with when Rashad Jones kept coming back and demanding more money after ever good season he had.
In fact, the similarities are astounding!
Let's Look Back:
Reshad Jones was drafted by Miami in the 5th round of the 2010 NFL draft, and he immediately became one of my favorite players! He was an incredibly good player and after 3 years in 2013 Jones held out and skipped organized team activities due to a contract dispute after he was set to make $1.32 million. In 2013 Miami gave Jones to a new deal is worth $29.285 million with $15 million of that money guaranteed, including a $5 million signing bonus.
Reshad Jones after signing that new contract in 2013, played average the very next season in 2014. On August 8, 2014, Jones was suspended for the first four games of the 2014 season for violating the league's substance abuse policy. Jones finished the season with 80 combined tackles (70 solo), seven pass deflections, three interceptions, and a sack in 12 games and 12 starts.I do not recall him offering to pay Miami back! Jones at the time was one of my favorite players, and I called him out in May of 2014
Reshad Jones bounces back in 2015 and plays what I felt up to his contract. On January 24, 2016, it was announced that Jones was named as an replacement to the 2016 Pro Bowl after Cincinnati Bengals' safety Reggie Nelson was unable to participate due to an ankle injury he suffered in the AFC Wildcard Game. On May 16, 2016, Jones was announced as the 64th ranked player, as voted by his peers, on the NFL Top 100 Players of 2016.
Jones after tearing his rotator cuff. On October 19, 2016, the Miami Dolphins officially placed Jones on injured reserve and announced that he would miss the remainder of the season with his torn rotator cuff. Jones finished the 2016 season with 51 combined tackles (31 solo), four pass deflections, an interception, and half a sack in six games and six starts.
Miami Dolphins safety Reshad Jones has skipped all of the team's voluntary Organized Team Activities thus far through the offseason, and is not expected to show up the rest of this week, or next week when the team holds the mandatory veteran minicamp. Jones, who was selected to the Pro Bowl for the first time last year, wants to be paid like one of the top safeties in the league. He currently has the fourth-highest salary cap number ($8.2 million) this year at safety, behind just Jarius Byrd ($10.9 million), Eric Berry ($10.8 million), and Earl Thomas ($9.9 million).
On March 9, 2017, the Miami Dolphins signed Jones to a five-year, $60 million contract extension with the Dolphins with $35 million guaranteed and a $9.2 million signing bonus.
In 2018 Jones ended up with another decent year he finished with
So in 2019 Brian Flores' Rookie season Jones went to the well one time to many as Jones initially refused but eventually ended his refusal to participate in organized team activities over his contract, or a trade desire., Jones did not come to voluntary events this spring. They are…voluntary. As in, he can choose to come or not to come. There was no hold out. Jones is a two-time Pro Bowl player and believes he is the top safety in the league. Even at 31 years old, Jones is not going to come into the team and not look to keep that level of play. He is going to put in the work away from the team to make sure he is an impact player with the club.
Brian Flores was no fan of one of his top paid veteran players not coming to voluntary camp that spring and considering he was the new HC I also would have felt disrespected that one of my veteran players snubbed his nose at an opportunity to bond with his new HC. Each time Jones wanted more money after he had a good season but failed to offer anything back when he did not play up to a high level. Jones has not played again since being released by the Dolphins! Selfish and greedy! Sounds Familiar?
Miami never should have back then given into Jones' demands; they should have done then what I say they should do now with Xavien Howard TRADE HIM!!!!!!
**********PLEASE DON'T FORGET TO CLICK THE STARS ABOVE ***********
Please help create better content in the future as well as giveaways such as upcoming TDS T-Shirts, Game Tickets, Giveaways, and cashback opportunities. For as little as .99 cents a month you can contribute to the growth of TDS and the podcast.
Please become a sponsor, there are 3 monthly price ranges to choose from .99 basic content /4 .99 with special content with more giveaways / 9.99 premium that will get you even more special content as well as many more giveaways others will not enjoy! (Click Here To Support!)
PLEASE GRADE THE ARTICLE AT THE TOP (1-5 STARS)!
(((((((COMPUTER GENERATED WEEKLY PREDICTIONS IN LATEST PODCAST))))))))
((((Please support my site by listening to my podcast I have sponsors!))))