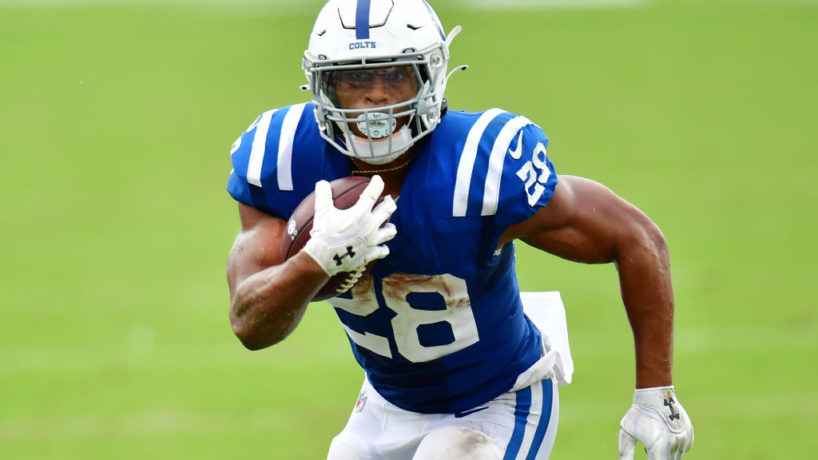 I have not had much to complain about when it comes to our GM and Head Coach, but this is an issue that has stuck in my craw sine last year when Miami just poo pooed every top RB in the 2020 draft class and did basically the same thing this year.
Yes, I am harping on this again! I am still extremely disappointed that Miami did not in the last two drafts take one of the projected TOP RB's in the draft and particularly passing on the very two I wanted. Last year I was all in on taking RB Jonathan Taylor out of Wisconsin because he was exactly what this team needed to help our young QB and help our defense by controlling the clock and keeping our defense fresh.
Last year Miami lost out of the playoffs to the Colts who took my man crush RB Jonathan Taylor who in their last game of the season the rookie ran for a franchise-record 253 yards, scored twice and sprinted 45 yards to the end zone with 3:35 to play, powering the Colts to a playoff-clinching 28-14 victory over the Jacksonville Jaguars. The team they beat out was Miami!!!!
That would have never happened had we drafted Taylor in 2020!
Jonathan Taylor 2020 Stats
ATT, 232, 8th
YDS, 1,169, 3rd
TD 11Tied-7th
AVG, 5.0, 10th
So naturally I thought that Miami would correct that mistake and take Najee Harris at 18 when they had the chance! But that did not happen in fact they did not draft an RB until the 7th round, and I have no ill will towards any of our RB's but not one RB on this roster SACRES anybody!
I felt even more strongly this year about RB Najee Harris out of Alabama who Miami also passed up with the 18th pick and the Steelers snatched up 6 spots later at 24 IN THE FIRST ROUND!
Yes, as some of those wannabes GM's keep spewing you can get a RB later in the draft, many of them had high hopes that RB Javonte Williams would be there at pick number 36 of the 2nd round and it looked like a great possibility that he would until Denver swooped in and traded up to #35 and snatched Williams from the possibility of Miami drafting him, we don't even know if the Dolphins would have taken him at 36 where they eventually drafted S Jevon Holland (Love That Pick).
So I go back to my original position that Miami should have when they had the chance drafted RB Najee Harris at pick #18 of the first round and for the life of me I don't get how this team seems to take the RB position so lightly! Do not get me wrong I love Myles Gaskin, but he is not a number 1 RB and not the kind you need to carry the load and team. There is a reason why he fell to the 7th round as did the only RB taken by Miami in the draft this year again in the 7th round. (Gerrid Doaks)
I just hope that at the end of the 2021 season that the Steelers who took Harris with their 24th pick does not somehow leapfrog the Dolphins into the playoffs this year and their rookie RB be the key reason that they do.
This is truly the only complaint that I have against this regime as to me there is no greater important need than having a TOP Tier RB to help the defense and our young QB especially at seasons end when winter is here.
The fact of life is this YOU GET WHAT YOU PAY FOR and in the competitive AFC Miami's playing the RB position cheap just might once again be the reason they fail to make the playoffs in 2021. I just hope that does not happen again!
Please help create better content in the future as well as giveaways such as upcoming TDS T-Shirts, Game Tickets, Giveaways, and cashback opportunities. For as little as .99 cents a month you can contribute to the growth of TDS and the podcast.
So click on the sponsor, there are 3 monthly price ranges to choose from .99 basic content /4 .99 with special content with more giveaways / 9.99 premium that will get you even more special content as well as many more giveaways others will not enjoy! (Click Here To Support!)
PLEASE GRADE THE ARTICLE AT THE TOP (1-5 STARS)!
(((((((COMPUTER GENERATED WEEKLY PREDICTIONS IN LATEST PODCAST))))))))
((((Please support my site by listening to my podcast I have sponsors!))))
Get This Weeks Prediction On TDS PODCAST!