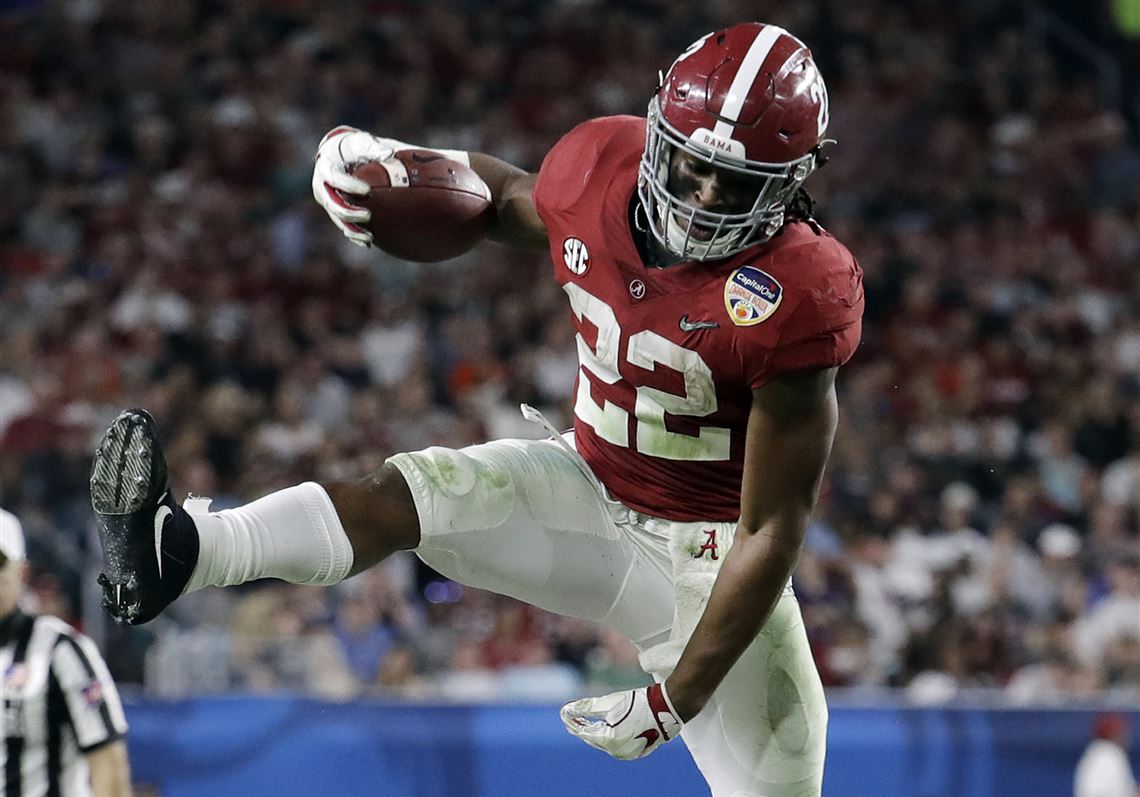 There is this ongoing debate between different philosophies when it comes to drafting an RB and I am not sure where it started but many feel that a RB should not be drafted in the first round and this article is written to debunk that theory on so many levels. But first I want to talk about the RB's in the upcoming draft and how they are ranked.
For the most part RB Najee Harris is considered by many to be the best RB in this year's draft class, but he does have some competition because it is not unanimous as some consider Clemson's RB Travis Etienne as the top RB coming out of this year's draft class.
I am not here to argue who is better more than who is the better fit for Miami.
Miami currently have 6 RB's on the roster (See Below)
I love how both Myles Gaskins and Salvon Ahmed played last year, they both played well, and I can see a need for them on our roster. Now as for the other names on the list I am sure they too are good RB's because to be on a professional team you must be good. But who are they?
Now here is the issue when looking at Najee Harris vs Travis Etienne do you notice the one thing Miami's current RB possess that is exactly what Travis Etienne possess?
Stature!!!!!
Look at the height and weight of every RB on the Dolphins roster, what do they have in common? They are all between 5-10 and 200 LBS. Travis Etienne is 5-10 210 LBS! We already have 6 RB's on the roster with that same Stature, so does it make sense to add another RB who is basically a cookie cutter?
Some are even touting RB Javonte Williams in the 2nd or 3rd round to Miami because they feel you should not use a first round pick on an RB …. Really? Javonte Williams is 5′ 10″ 220 LBS! Dah!!!!!!
Najee Harris if drafted by Miami would become the biggest RB on the roster at 6′-2″ 229 LBS he is closer to RB Derrick Henry's size than any other top RB in the draft and he would be the one of the biggest RB's in the NFL. His "Stature" is the main reason he is ranked the top RB in the draft and we will not get him if we pass him up at 18, that is if he is not gone by then.
Top 10 2020 NFL RB's: Notice their stature!
Derrick Henry …………………………………………….6-3 245 LBS
Dalvin Cook ……………………………………………… 5′ 10″ 210 LBS
Alvin Kamara……………………………………………… 5′ 10″ 215 LBS
Nick Chubb …………………………………………………5′ 11″ 227 LBS
Jonathan Taylor…5′ 10″ 227 LBS (I wanted Miami To Draft Taylor last year)
Aaron Jones …………………………………………………5′ 9″207 LBS
David Montgomery…………………………………….5′ 10″ 216 LBS
James Robinson…………………………………………… 5′ 9″219 LBS
Josh Jacobs ……………………………………………………5′ 10″ 220 LBS
J.K. Dobbins ………………………………………………….5′ 10″ 212 LBS
Najee Harris would fit just behind Derrick Henry as far as stature among the top RB's in the NFL and Henry is number 1 for a reason, he is head and shoulders (literally) above the rest, would these same people that argue taking a RB in the first round is a wasted pick, pass up Henry today if he were in the draft? (Yes, I Know he was a 2nd round pick, but were talking stature! And Knowing what we Know today!)
So here is the part where I debunk the foolish talk of not drafting Harris with our 18th pick (Even though he might be gone as some of the mock draft simulators have the Cardinals taking him at 16)
As I mentioned earlier some feel drafting a RB in the first round is a wasted pick and as I often say who made those rules? But here is why it does not apply to the Dolphins….
Miami has multiple first round picks not only in this year's draft, but in last year's draft where they passed up on the top RB (My Man Crush last year Jonathan Taylor ended up 5th in rushing) and they also have multiple picks in 2023 too….
It's not like Miami has only one of their first-round picks, they had 3 last year and two this year and a total of 8 so far through 2023 so it is not a wasted pick to take a RB at 18 this year especially when you take into account the reward they would get if Harris lives up to his potential. And given that they blew it last year by passing up on the top young RB's in the 2020 draft. Hopefully, they learned a lesson. Draft Harris this year and all will be forgiven for last years mistake….(All they had to do is follow TDS 😊!!!)
Do not be fooled, Harris is on quite a few teams wish list and if I were making the decision, I would not care what anybody say or think I would draft Harris at 6th overall because of the impact he could have for both the offense and defense! Harris is a difference maker and it is never to early to add a difference maker on the roster!
Please help create better content in the future as well as giveaways such as upcoming TDS T-Shirts, Game Tickets, Giveaways, and cashback opportunities. For as little as .99 cents a month you can contribute to the growth of TDS and the podcast.
So click on the sponsor, there are 3 monthly price ranges to choose from .99 basic content /4 .99 with special content with more giveaways / 9.99 premium that will get you even more special content as well as many more giveaways others will not enjoy! (Click Here To Support!)
PLEASE GRADE THE ARTICLE AT THE TOP (1-5 STARS)!
(((((((COMPUTER GENERATED WEEKLY PREDICTIONS IN LATEST PODCAST))))))))
((((Please support my site by listening to my podcast I have sponsors!))))
Get This Weeks Prediction On TDS PODCAST!