I have always been on the fence on the matter of the DeShawn Watson sweepstakes my response has always been I will trust or GM and HC on that matter but lately I have been leaning towards the Tua side and I just fell off the fence and I am 100% on board with keeping our young prospect who is working so hard amidst rumors that he is possibly on the trading block if Houston will relent to Watson's trade demands.
I must say Houston is doing a great job in trying to convince Watson to stay and I hope it works but if not I truly hope that Miami is not in the market for another QB because they have a young determined 2nd year QB who got his feet wet last year and has an opportunity to take a big step up in 2021 if Miami surround him with just as good if not better defense and my plan to draft young talented skilled players to grow with Tua in our Offense and that is why my latest Mock Draft have Miami doubling up on WR's and RB's with their first 4 picks.
3. Ja'Marr Chase WR, LSU
18. Najee Harris RB, Alabama
36. Javonte Williams RB, North Carolina
50. Amon-Ra St. Brown WR, USC (See Full Mock Here)
My desire for the Dolphis is to have a running game much like the Browns who I envy more than any other team in the NFL as far as running game is concerned as they have two young studs that pack a powerful punch and to add two young studs to our young offense is what I would do, and I would double up both positions with the first 4 picks and take the BPA from then on.
I was against drafting Tua and wanted Josh Rosen to be given a chance and I also disagreed with letting Rosen go as I felt he and Tua should be headed to training camp battling for the starting job and the loser gets the backup role or traded for more draft picks in 2022.
After seeing Tua play in 2020 even with the difficulties he had I was impressed with so many things he did and I can envision the Tua that played against Murry, Mahomes, and even fellow rookie and rookie MVP Justin Herbert, Tua came out of those games with a 2-1 record and the one loss he had against KC was more on the Defense than Tua.
So, I did see his true potential and I have been won over by his off-season efforts as he has put his head down and is grinding away and have you noticed his physical development?
This was a couple of weeks ago, he even looks bigger in a recent News report down here in Miami!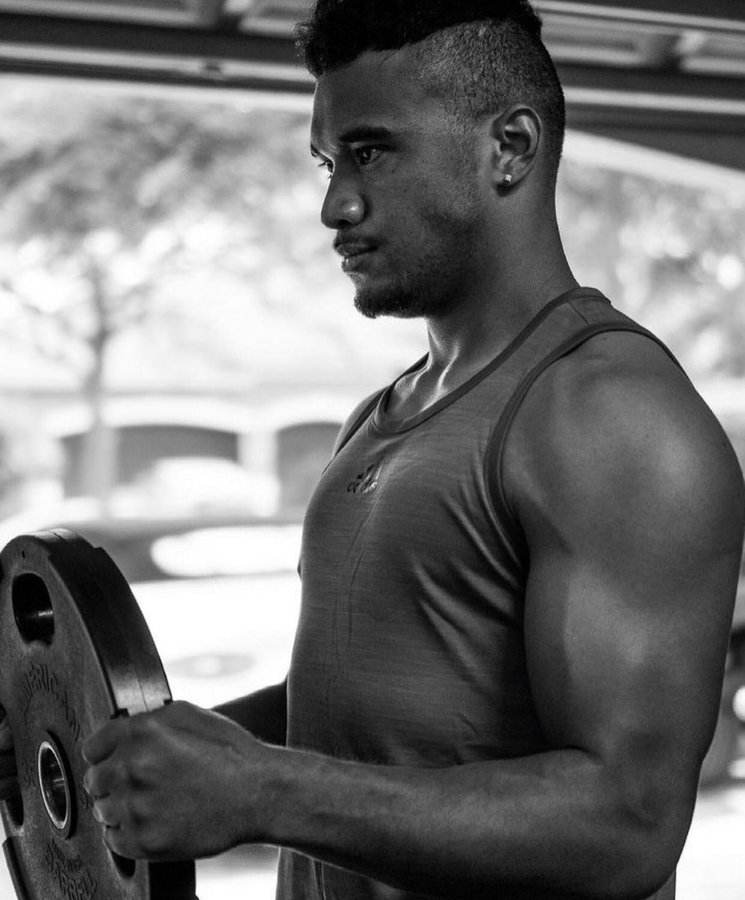 Count me on board with what appears to be a growing backlash of fans who do not want to give up on Tua, I almost feel ashamed of myself for even wanting to take a chance on Watson. 
I look forward to what Miami's head coach recently said about Tua as Flores has ALWAYS kept it real when he says what he intends to do and just last week Flores said:
Asked specifically about his reaction to rumors the Dolphins could add a veteran quarterback Flores replied, "My reaction is I'm excited to work with Tua."
"That's where my interests are," Flores said, via Hal Habib of the Palm Beach Post. "That's where my excitement is."
Flores noted he had lunch with Tagovailoa on Wednesday and that he's confident in the quarterback.
Tagovailoa completed 64 percent of his passes for 1,814 yards with 11 touchdowns and five interceptions in 2020, compiling a 6-3 record as a starter. But Flores also used Fitzpatrick as a "relief pitcher" of sorts when Tagovailoa struggled in a pair of games, benching the rookie for the veteran QB.
One thing is sure Brian keeps it real and I know it is a long time between now and the start of the 2021 season but I for one will be rooting hard for our young 23-year-old 2nd year QB who has so much potential!
Please help create better content in the future as well as giveaways such as upcoming TDS T-Shirts, Game Tickets, Giveaways, and cashback opportunities. For as little as .99 cents a month you can contribute to the growth of TDS and the podcast.
So click on the sponsor, there are 3 monthly price ranges to choose from .99 basic content /4 .99 with special content with more giveaways / 9.99 premium that will get you even more special content as well as many more giveaways others will not enjoy! (Click Here To Support!)
PLEASE GRADE THE ARTICLE AT THE TOP (1-5 STARS)!
(((((((COMPUTER GENERATED WEEKLY PREDICTIONS IN LATEST PODCAST))))))))
((((Please support my site by listening to my podcast I have sponsors!))))
Get This Weeks Prediction On TDS PODCAST!