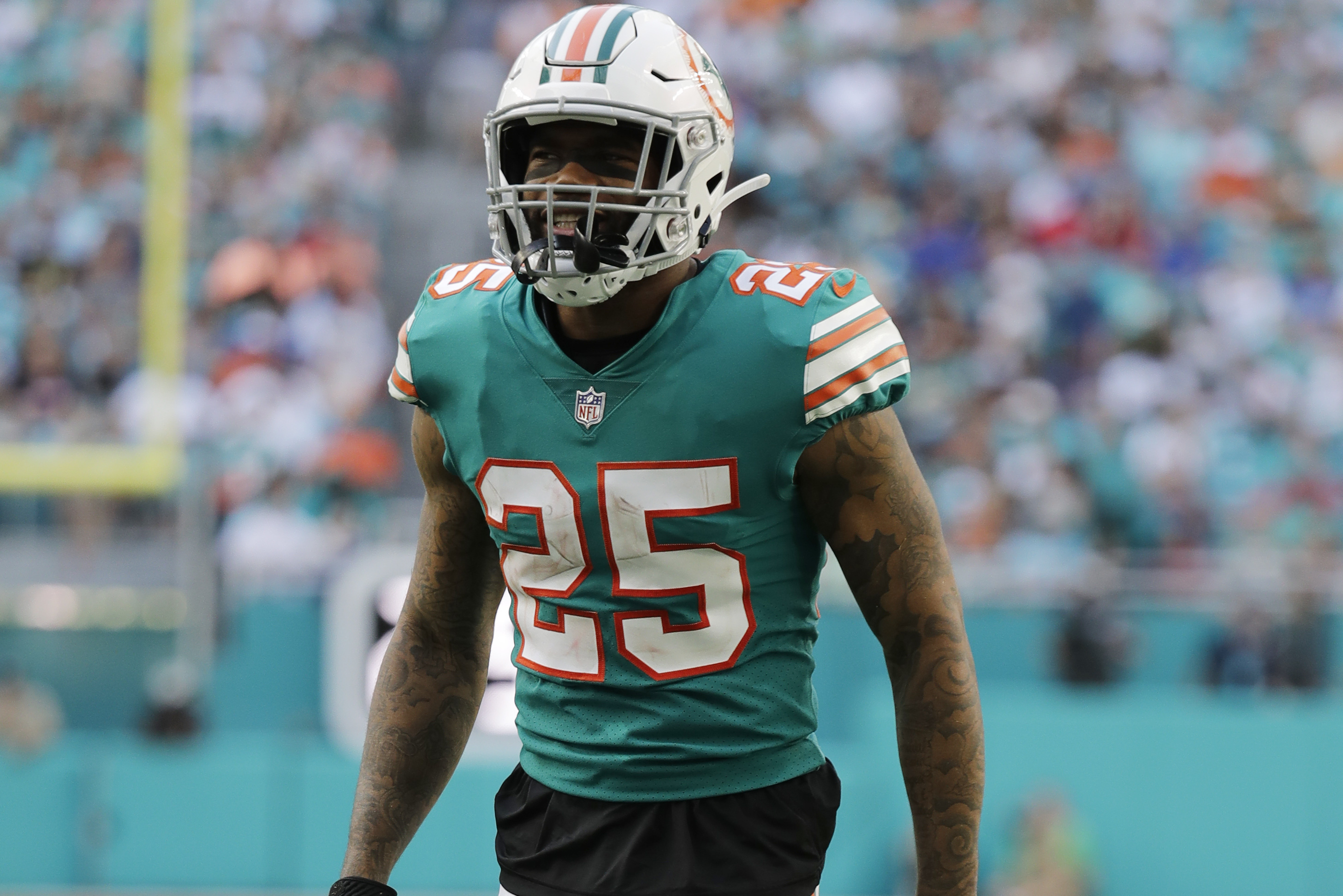 Xavien Howard's value is at it's peak and as weird as this may sound NOW is when you want to trade him and get what you can get for him. Howard is one of if not the best at his position. Howard's 10 interceptions tied a Dolphins record set by fellow cornerback Dick Westmoreland in 1967. He also finished the season with 20 passes defensed, the most in the NFL and the most by a Dolphin since Andre Goodman had 19 in 2008. The last time an NFL player intercepted double-digit passes in a single season was Antonio Cromartie with the 2007 San Diego Chargers. (Thanks to Travis Wingfield) That Is The Good in Xavien Howard.
Xavien Howard at 27 years and just after two years in his 5-year record breaking deal he signed with Miami making him the highest paid CB in the league in 2019 Xavien Howard signed a 5 year, $75,250,000 contract with the Miami Dolphins, including a $7,000,000 signing bonus, $39,260,641 guaranteed, and an average annual salary of $15,050,000. In 2021, Howard will earn a base salary of $12,075,000 and a workout bonus of $25,000, while carrying a cap hit of $13,500,000 and a dead cap value of $6,700,000.
Just after signing that deal in December of 2019 Miami Dolphins Pro Bowl cornerback Xavien Howard underwent knee surgery recently, the player and team confirmed on Thursday. This was after Howard was placed on injured reserve back in October 2019 with the knee injury, which at the time was described as not an issue. "He had surgery on his knee," head coach Brian Flores replied when asked about Howard on Thursday. "I'm not going to go into details on exactly what type of surgery he had, but he had surgery on his knee as you can see."
While on IR recovering from his surgery:
On December 30th, 2019: Miami Dolphins cornerback Xavien Howard was arrested by the Davie Police Department on domestic battery charges Sunday night.
Per the arrest report obtained by ESPN, an argument between Howard and his fiancée turned physical when Howard grabbed both her arms and pushed her against the mirrored glass wall in the hall of their bedroom, causing her to fall and land on his medical assistant walking crutch. An officer said he observed scratches and redness on her right wrist/forearm from Howard grabbing her and an abrasion and redness from the fall.
Howard, 26, was processed at the Davie Police Department, then transported to a local hospital when he complained of knee pain from a recent surgery. He was then transferred to Broward County Jail. He paid $3,000 bond on Monday.
Police said the altercation started over a recent purchase of a purse. Howard and his fiancée live together and share three children.
The Dolphins placed Howard on injured reserve with a knee injury in October, and he recently had surgery. He remained at home while the team ended its season Sunday with an upset win over the New England Patriots in Foxborough, Massachusetts.
Howard's representatives could not immediately be reached for comment.
"We are aware of the situation and currently gathering information," the Dolphins said in a statement. "We will have no further comment at this time."
Coach Brian Flores said the team takes the allegations against Howard seriously.
"We're still gathering information on that. We take situations like that very, very serious. We're gathering information. It's unfortunate," Flores said. "How does it impact us? It does impact us. Again, we take these things very seriously. We'll gather all information and do what we feel is best for the organization.
"It's too early to tell. I haven't even talked to him. We have a process here. We'll go through that process, Chris, myself, Brandon, Tom, we'll have a conversation with X and make a decision once we get all the information."
Howard made the Pro Bowl in 2018 after tying for the NFL lead in interceptions. He signed a five-year, $75.25 million extension in May.
He is the second Dolphins player arrested on domestic violence charges this season. Running back Mark Walton was arrested on charges of aggravated battery of a pregnant person in November and was immediately waived by the team.
On Feb 20th, 2020 Howard's charges were eventually dropped
Florida prosecutors dismissed domestic violence charges against Miami Dolphins cornerback Xavien Howard on Thursday. … According to a police report, an argument between the two parties became physical when Howard allegedly grabbed both of her arms and pushed her against a mirrored wall at their home.
The State Attorney's office dropped the case after the woman said she didn't want to proceed with the prosecution. According to the South Florida Sun-Sentinel, she told prosecutors that the situation "got out of hand" and she has no fear for her safety regarding Howard.
Howard only played 5 games in 2019 just after being paid handsomely by Miami.
On February 21st, 2021
It was reported that
Dolphins' cornerback Xavien Howard appears in an official incident report concerning a shooting at the home of his former agent, Damarius Bilbo, which happened in June 2020. Howard's name is misspelled in the report, but it is clear that he is the person being referenced (though his name appears without explanation or context).
Pro Football Talk first obtained the report from Dunwoody (GA) authorities several days ago. In it, we learn that on June 29, someone fired a bullet into Bilbo's home. Bilbo was not home at the time, but his wife and 12-year-old son were. The son told police that he saw a gold sedan pull up to the front of the house, that he saw a black male wearing a hoodie exit the vehicle and walk onto the lawn, and that the person jumped back into the vehicle after a shot was fired through a window.
Howard's name appears on the "Additional Name List" on the second page of the report, but as Barry Jackson of the Miami Herald tweets, Howard is not suspected of firing the gun. Jackson adds in a full-length piece that Howard is also not believed to have been in the vehicle. However, police have requested interviews on several occasions, which Howard declined.
Howard declined the first interview request back in August, saying that he was dealing with COVID-19. The most recent request was made within the last few weeks.
Howard's attorney, Darren Heitner, said, "Xavien was not involved in this incident and there is no evidence to suggest otherwise." At this point, that certainly seems accurate, as Howard's only connection to the incident appears to be his former business relationship with Bilbo and his association to other individuals who were listed as "Additional Names." Both the Pro Football Talk report and the Jackson article provide further info if you want to dive deeper.
Bilbo represented Howard until the two had a business dispute in October, but it was Bilbo who negotiated Howard's five-year, $75.3MM extension in 2019, which made Howard the highest-paid CB in the league at the time. Howard just turned in the finest season of his career and was in the running for Defensive Player of the Year honors, and as such, he is seeking a renegotiation of his contract (even though he is under club control through 2024). Jackson wonders if the Dolphins will use this incident as a reason to reject such a renegotiation, but recent reports have indicated that Howard will ask for a trade if he does not get a raise.
As Jackson writes, it's unclear if the NFL will investigate this matter. For now, the Dolphins, Bilbo, and Dunwoody police have declined to comment. (LINK) That Is the Bad in Xavien Howard.
On December 22nd, 2020 ARMANDO SALGUERO of the Miami Herald in his article made it known that Howard wants a new deal
"After dream season, Xavien Howard contract demands might also make offseason dramatic"
And, according to NFL sources, Howard's representation will tell the Dolphins this offseason they want to renegotiate the player's deal — an exercise that could be filled with drama, depending on the team's response.
Howard was made the highest paid CB in the league just two years ago when he signed a 5 year deal and he repaid Miami that very season with an injury shorted, drama filled season where he played only 5 games with only 1 int, he had a great 2020 season with the 10 int (noted above) so if you add the two seasons together he has 5.5 int's since being paid the highest paid CB in the league…and he wants to get paid more because he is not the highest paid CB in the league? he thinks he has outperformed his contract and feels slighted because Jones is making more.
The Dolphins last offseason signed Byron Jones to a five-year, $82 million deal that easily vaulted past Howard's deal. Jones is averaging $16.5 million on an annual average while Howard is averaging $15 million. Jones got $46 million fully guaranteed compared to $27.2 million for Howard. Jones this season is Miami's highest paid player and Howard is second. And next season, Jones is scheduled to make $14 million in base salary and Howard is scheduled to make $12.075 million in base salary.
Is Jones worth more than Howard? YES!!! and here is why:
Byron Jones worth just as much as Howard because Jones unlike Howard is a guy you can be the face of your organization while the drama filled Howard is an embarrassment to Miami and gives them a black eye. He is fraught with trouble and he is counting other people's money instead of doing his job….in the industry where I work you can get fired for even talking about what others make.
While Howard was being mentioned in a shooting scandal that has now since been dropped Miami other top Cornerback Byron Jones was named Thursday as the Miami Dolphins nominee for the Walter Payton Man of the Year Award. Jones don't get the INT's that Howard does because he is so good at locking down his side of the field that teams often avoided throwing his way so let's not fall for the hype in just INTs alone.
Ask yourself who would you rather have as the face of your franchise? I am sure Miami would choose Jones every time!
Now is the time to move on from Howard he has been an injury prone player who has brought a lot of drama to the Dolphins while Jones in just his first season in Miami was voted BY THE TEAM as the 2020 Walter Payton Man of the Year.
If one had to go, who would you move? On the surface Howard might be the more attractive player because of his INT's but deep down he is a selfish cancer full of trouble and is perfect for trading and that should be the solution to Howard if he even dares to ask for more money!
In the case of Howard the bad outweighs the good and he should be traded, even if he does not ask for more money!
I know what I would do…. see the title!
Please help create better content in the future as well as giveaways such as upcoming TDS T-Shirts, Game Tickets, Giveaways, and cashback opportunities. For as little as .99 cents a month you can contribute to the growth of TDS and the podcast.
So click on the sponsor, there are 3 monthly price ranges to choose from .99 basic content /4 .99 with special content with more giveaways / 9.99 premium that will get you even more special content as well as many more giveaways others will not enjoy! (Click Here To Support!)
PLEASE GRADE THE ARTICLE AT THE TOP (1-5 STARS)!
(((((((COMPUTER GENERATED WEEKLY PREDICTIONS IN LATEST PODCAST))))))))
((((Please support my site by listening to my podcast I have sponsors!))))
Get This Weeks Prediction On TDS PODCAST!