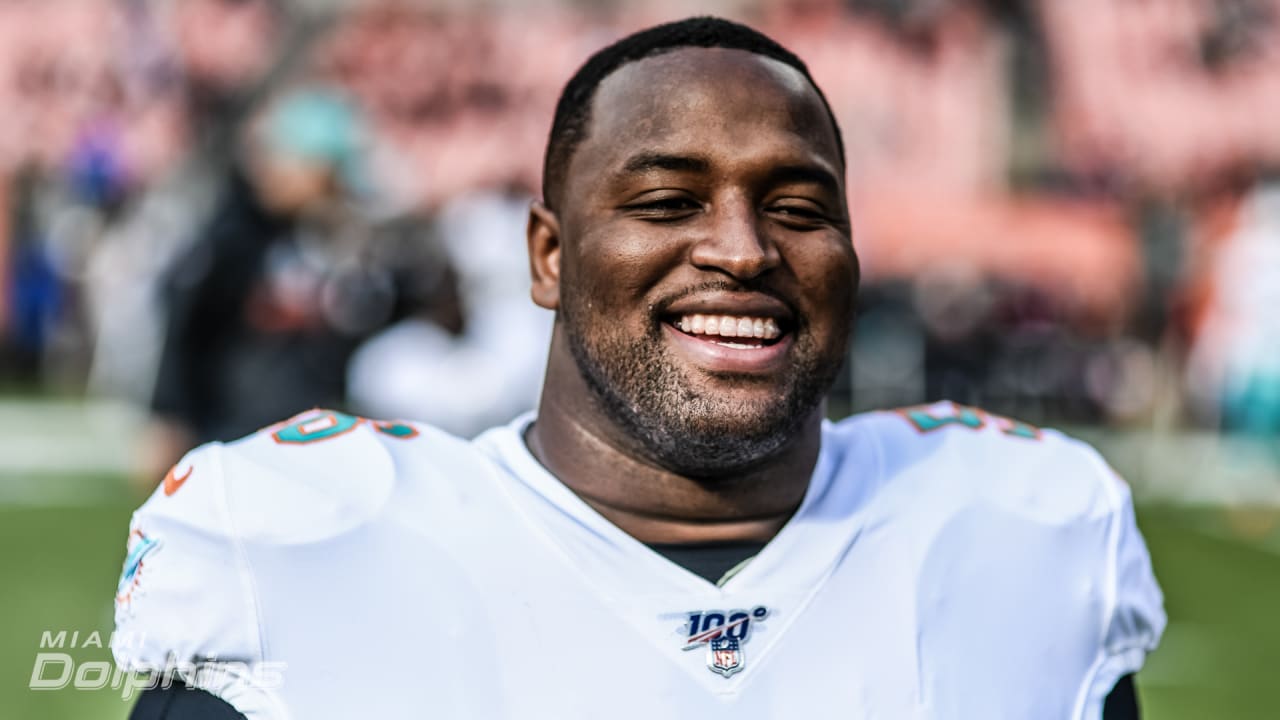 Davon Godchaux was drafted by Miami in in the 5th round in 2017 and he has played very well throughout his time in Miami he is one of my favorite players on the team who unfortunately suffered a season ending injury (torn biceps) last year and in his absence the Dolphins had good success with three players who stepped up as the next men up. (Christian Wilkins, Raekwon Davis, and Zach Sieler)
Godchaux who is 27 years old is looking for his 2nd contract as he is one of Miami's URF and his status with Miami is both a good and bad thing, it all have to do with how this team is progressing in the rebuild and the talent that Miami has drafted or picked up in free agency.
The Dolphins have very solid young talent at the DT position Christian Wilkins 6′-4″ 315 LBS 25 years old is a first round draft pick in 2019 and has played very well for Miami, Raekwon "Baby Huey" Davis 6′-7″ 330 LBS 23 years old and a second-round pick in 2020 who developed very well as a rookie and got better every week. Zach Sieler 6′-6″ 297 LBS 25 years old who also played very well along the line are all younger than Godchaux so as far as a need Miami have a greater need for a pass rusher to add to the mix over another rotational DT player with the success, they have in the rotation of the 3 younger players.
I am sure Davon Godchaux who has one of the best agents in the game (Drew Rosenhaus) is looking to get paid and there are some DT needy teams that have him on their radar come free agency period and the chances of him staying in Miami are slim.
That is a good thing for both as Miami has improved their talent and depth in just two short years that makes a player like Godchaux expendable, now don't get me wrong I hope that somehow Miami can find a way to retain Davon I just don't see that happening and for that the best that can be done is to thank Davon for his services and wish him future success if it is not against Miami. 🙂
Please help create better content in the future as well as giveaways such as upcoming TDS T-Shirts, Game Tickets, Giveaways, and cashback opportunities. For as little as .99 cents a month you can contribute to the growth of TDS and the podcast.
So click on the sponsor, there are 3 monthly price ranges to choose from .99 basic content /4 .99 with special content with more giveaways / 9.99 premium that will get you even more special content as well as many more giveaways others will not enjoy! (Click Here To Support!)
PLEASE GRADE THE ARTICLE AT THE TOP (1-5 STARS)!
(((((((COMPUTER GENERATED WEEKLY PREDICTIONS IN LATEST PODCAST))))))))
((((Please support my site by listening to my podcast I have sponsors!))))
Get This Weeks Prediction On TDS PODCAST!