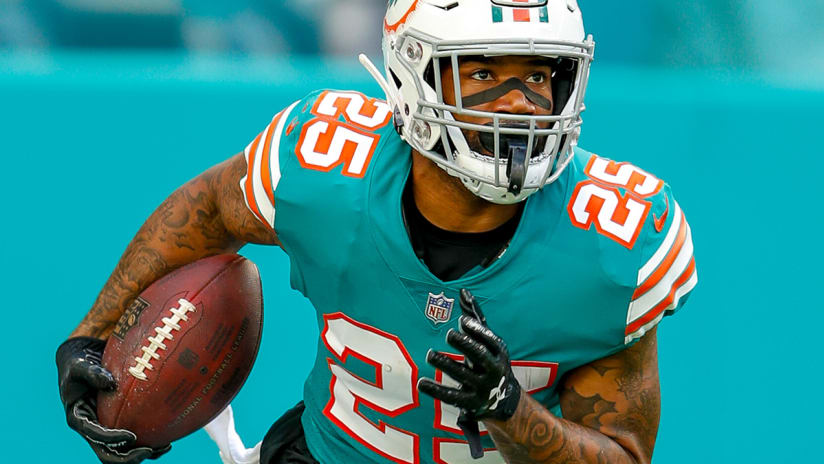 There have been rumors that seem to be coming from Xavien Howard's camp that he will be seeking a new deal after just a little under two years into his record deal.
We'll let us review the history of Howard:
He was drafted in 2016 / Round: 2 / Pick: 38th overall, on May 18, 2016, the Miami Dolphins signed Howard to a four-year, $6.12 million contract with $3.83 million guaranteed and a signing bonus of $2.65 million. Howard.
On the final day of minicamp, Howard suffered a knee injury and was placed on the physically unable to perform list after it was discovered he would require surgery. Howard underwent arthroscopy surgery and was unable to physically participate in training camp.
Although he missed the first three preseason games, head coach Adam Gase elected to name Howard the second starting cornerback, alongside veteran Byron Maxwell, to begin the regular season. Howard played 7 games his rookie season with 0 INT's.
In 2017 his 2nd season Howard entered training camp, slated as the Miami Dolphins' No. 1 cornerback. He was named the starting cornerback to start the regular season, along with Byron Maxwell. Bobby McCain and Alterraun Verner were named the backup cornerbacks.
Howard played 16 games and had 4 INT's he also had 48 combined tackles (42 solo), 13 pass deflections, and a sack in 16 games and 16 starts.
In 2018 Howard Blows up!
During the New York Jets home opener in Week 2, Xavien Howard got his first interception of the season. One week later, Howard recorded his third career game with two interceptions on Derek Carr in the 28–20 victory over the Oakland Raiders.[32] Howard also intercepted Colts' quarterback Andrew Luck twice in a span of 14 seconds during the Dolphins' loss on the road against the Indianapolis Colts.
In Week 13 of the 2018 season, Howard injured his knee after intercepting Bills' quarterback Josh Allen for the second time that afternoon. He went on to miss the final four games of the regular season.
Howard ended the 2018 season leading the league interceptions with Chicago Bears corner Kyle Fuller and Atlanta Falcons safety Damontae Kazee with seven.[33] Howard was named to his first Pro Bowl and first second-team All-Pro.
Howard played only 12 games in 2018!
Miami then rewards Howard for his play and they ponied up the money to make him the highest paid CB in the NFL at the time. In 2019 the Dolphins signed Xavien Howard to a five-year, $75.25 million contract. There is a lot of speculation in the media that Howard may want to redo that contract already. He was given $46 million guaranteed.
Howard signed his new deal on May 9, 2019 and a few months after signing his NEW DEAL During a 911 call on Dec. 29, 2019, the fiancée of Miami Dolphins cornerback Xavien Howard alleged he abused her on multiple occasions…shortly after Howard was arrested that day and charged with domestic battery. I cannot imagine how disappointed the Dolphins management was at that time.
What was also an issue at that time was that Howard was also dealing with an injury that caused him to miss games as he underwent knee surgery that December that required the aid of crutches when he appeared at the Broward County Court.
All this just after signing that new contract!
The charges against Howard were eventually dropped and he was not disciplined by the league, however in the 2019 season he was only able to play 5 games and had only 1 int! I do not recall Howard offering to pay Miami any of that new contract back, do you? I also do not recall the Dolphins asking for any of that money back, like part of his signing bonus.
Look I know it goes both ways when it comes to teams and players because some teams have had no problem breaking a deal of trading / cutting a player when they are not deemed to be living up to their contract.
Players on the other hand have no problem trying to get as much as they can from teams especially when they think they have played beyond their contracts. I get that. The question is have Xavien Howard outplayed his contract?
This past season Xavien Howard had double-digit interceptions (10) a task that has not been accomplished since the 2007 season when CB Antonio Cromartie of the San Diego Chargers had the same double-digit interceptions (10).
Not only did Xavien Howard get 10 int's he also had an exceptional season over all:
Howard entered Week 17 allowing just 49.3 percent of passes targeted in his direction to go complete and limited opposing quarterbacks to a collective passer rating of 48.7 – both best among players with at least 40 pass targets, per Pro Football Focus. He also finished the season with 20 passes defensed, the most in the NFL and the most by a Dolphin since Andre Goodman had 19 in 2008.
Howard had a very good season! But should Miami now open their wallet and pay Howard more money because he had an exceptional season?
If you look at the totality of Miami's compensation of Howard in his 5 seasons with the Dolphins, he has collected a total of $32,053,038 dollars and have played a total of 56 games with 22 int's.
I say Howard is ahead of the contract he has been paid, and he does not deserve one penny more. Now if he plays out the 2021 season and plays lights out again then Miami should listen to any talks of contract extensions despite if he would play out his current deal, he will have collected $81,378,038 dollars in total! That is good money for a guy who has only played 16 full games in just two of his 5 seasons!
If Howards is looking at other players money and thinks he can do what was done by a former Dolphins great player who was selfish and greedy and got over on Miami only to still disrespect Brian Flores in his rookie season by trying to hold out again for more money…it won't take a long memory to think of Reshad Jones, and I am sure GM Chris Grier remembers how that worked out when Tannabaum allowed Jones to screw Miami!
We shall soon find out if Howard is that selfish person looking to put his hand out every time, he does what he has been properly compensated for already.
Please help create better content in the future as well as giveaways such as upcoming TDS T-Shirts, Game Tickets, Giveaways, and cashback opportunities. For as little as .99 cents a month you can contribute to the growth of TDS and the podcast.
So click on the sponsor, there are 3 monthly price ranges to choose from .99 basic content /4 .99 with special content with more giveaways / 9.99 premium that will get you even more special content as well as many more giveaways others will not enjoy! (Click Here To Support!)
PLEASE GRADE THE ARTICLE AT THE TOP (1-5 STARS)!
(((((((COMPUTER GENERATED WEEKLY PREDICTIONS IN LATEST PODCAST))))))))
((((Please support my site by listening to my podcast I have sponsors!))))
Get This Weeks Prediction On TDS PODCAST!