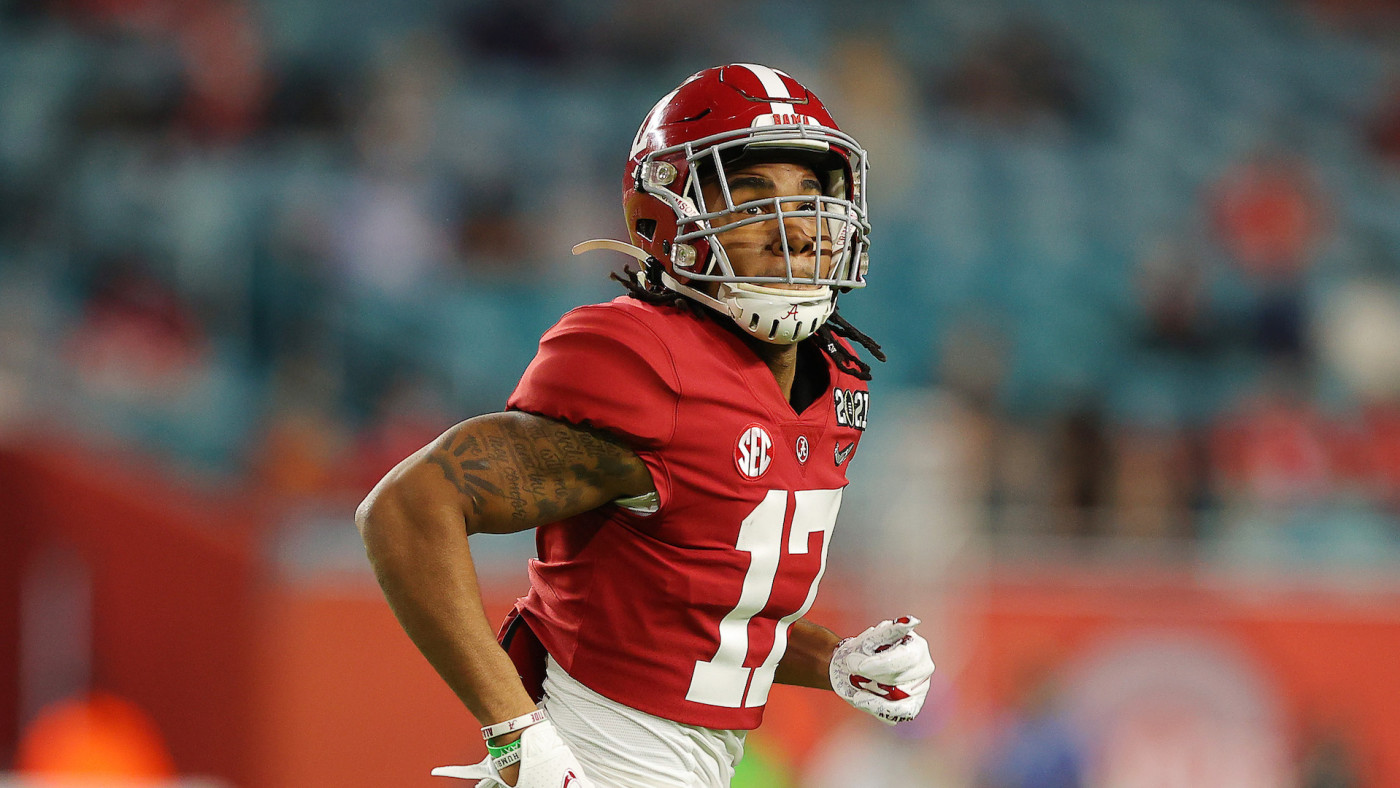 As much as Devanta Smith gets the deserved attention he is getting for his Heisman trophy college championship winning season after putting up 215 yards receiving and 3 TD's in just the first half of that Championship game, the light has not shined on what just might be the better receiver who due to an injury was not able to participate to his capacity in the Championship game.
Make no mistake about it WR Jaylen Waddle who wanted so badly to be apart of the championship game that he limped onto the field and had a few plays, should not be some forgotten player because he just might be better than Devonta Smith and I would have no problem if Miami had a draft strategy of maybe trading down from their #3 pick and taking a chance of losing out on Smith with the idea that they could still be in reach to draft Jaylen Waddle as both have played with Tua in college.
I am just hoping that Miami will land one of them IF NOT BOTH as well as RB Najee Harris leaving Miami with at least two former Alabama teammates of Tua on offense at the minimum as there are O-Lineman, LB's, CB's and even a QB from Alabama that could possibly land in Miami come Thursday, April 29, 2021.
Jaylan Waddle (5′-8″) is shorter than Devonta Smith (6′-1″) but he possess that one thing Smith can never match, Waddle is a "speed demon" he was measured with a 4.37 40–yard dash Waddle makes up for his lack of ideal size with elite speed and explosiveness, traits that made him a big-play machine throughout his career with the Crimson Tide. He could be dangerous in the slot or anywhere he lines up with that speed. Former Carolina Panthers WR Steve Smith was about the same size and speed of Jaylan Waddle.
***This is not to say that Smith's speed is not adequate enough as he was timed in the high-4.4 range for NFL scouts at pro-day spring of his sophomore year.***
Waddle was off to a flying start to the Crimson Tide season, topping 120 receiving yards in four consecutive games to start the year. Through four games, he had totaled 557 yards on 25 catches, a ridiculous 22.3 yards per catch total, to go with four touchdowns. But then on the opening kickoff in game number five against Tennessee, Waddle suffered a supposedly season-ending ankle injury.
Waddle's injury was a combination of a high-ankle sprain and a fracture to his right ankle, per Nick Saban on Oct. 24 to ESPN. The injury came on the opening kickoff against Tennessee. As the Volunteers' Kenneth George Jr. tackled Waddle, the Alabama star's right foot got caught between the grass and George's body, where it took heavy contact and was shoved into an awkward angle.
My ideal fantasy is that Miami lands all three Alabama Star offensive players Waddle, Smith & Najee Harris but it is most likely unrealistic and to get at least one of those WR's and RB Harris would be great. So, if Miami passes on Smith or trades down and losses out on him it still would be possible to land what just might be the best WR in the 2021 draft anyway.
Jaylan Waddle.
Please help create better content in the future as well as giveaways such as upcoming TDS T-Shirts, Game Tickets, Giveaways, and cashback opportunities. For as little as .99 cents a month you can contribute to the growth of TDS and the podcast.
So click on the sponsor, there are 3 monthly price ranges to choose from .99 basic content /4 .99 with special content with more giveaways / 9.99 premium that will get you even more special content as well as many more giveaways others will not enjoy! (Click Here To Support!)
PLEASE GRADE THE ARTICLE AT THE TOP (1-5 STARS)!
(((((((COMPUTER GENERATED WEEKLY PREDICTIONS IN LATEST PODCAST))))))))
((((Please support my site by listening to my podcast I have sponsors!))))
Get This Weeks Prediction On TDS PODCAST!