It was The Miami Dolphins Coaches vs The Carolina Panthers Coaches in a game that really meant more for the players than anything and it was a huge success for both the Dolphins and the Panthers as they had hands on participation for the week leading up to that game. These are some of the top talent in the College game all seniors who will be taking that next step in their life journey to become an NFL player.
Miami coached the National team, and the Panthers coached the American Team. Miami also had in their possession two Alabama Players (Devonta Smith and Najee Harris) who did not play but spent the week on their side getting to know Miami's coaching staff and hopefully made a positive impression and just might be dawning Dolphins uniforms in 2021 being reunited with Rookie QB Tua Tagovailoa.
The National Team (Miami Coached) started off strong and they went into the half up 13- 0 and looked dominant especially on defense, but the American side after an impassioned half time speech by Panthers head coach Matt Rhule his side came out and played a much more competitive second half eventually losing the game 27 -24
Miami's Head coach Brian Flores said:
"It was great…We had a really nice good week with these young players. They really worked hard. A lot of them made really good impressions not only on our staff, but there were teams obviously from across the league. But we got to spend the most time with them. We saw them in meetings, saw them take things from the meetings to the walkthrough to the practice. I thought they all did well for themselves and then came out and competed today, so it was a good week."
A Reese's Bath for Flores!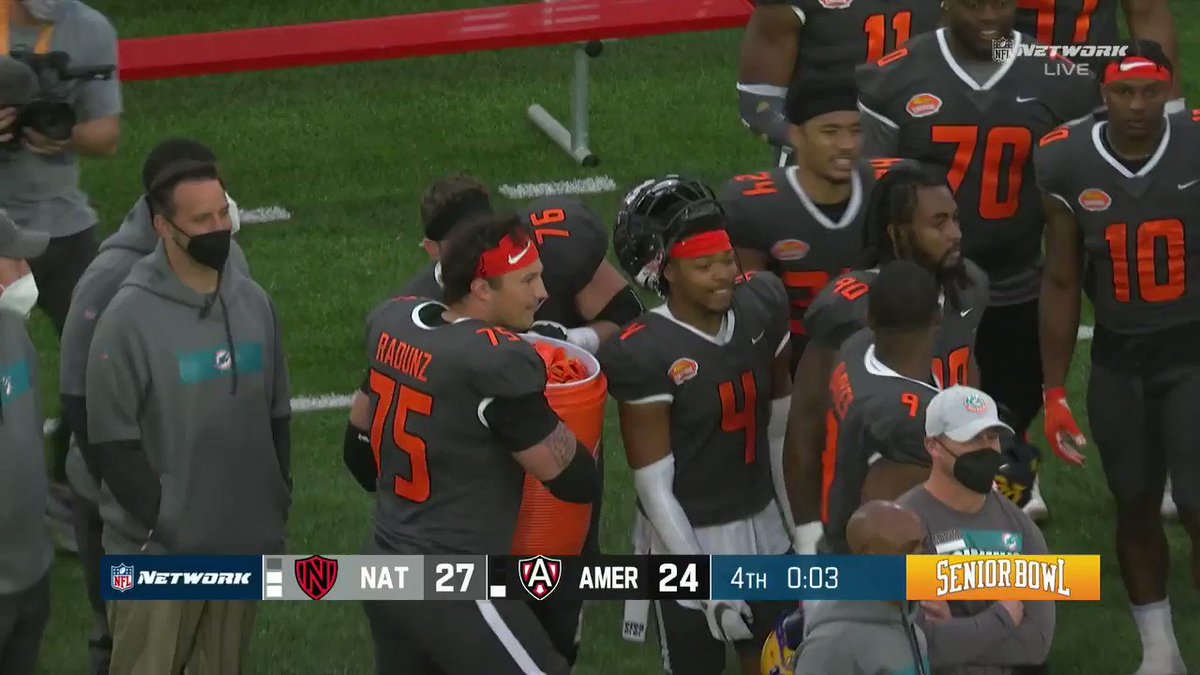 Flores On his Reese's Bath:
"You know, when you're at the Reese's Senior Bowl, by the end of the week, you've probably had enough," Flores joked. "There's bags in your room, there's Reese's Pieces on your door handle, it's everywhere. I just felt like I had enough. It's been a long week — a lot of meetings, a lot of walkthroughs, a lot of practice, a lot of meetings with players. I've probably gained few pounds, so I'm trying to head in the right direction starting today."
Another reason why this past week was so beneficial to the teams that participated is that the NFL announced some changes to the 2021 Scouting Combine…Annually held in Indianapolis, the league is scrapping in-person workouts at Lucas Oil Stadium, instead opting for pro days on college campuses. The NFL will coordinate with schools to ensure "consistency in testing and drills," providing video of said workouts to all clubs. Interviews and psychological testing of prospects normally executed at the physical combine will instead be conducted in an entirely virtual format.
You can see why this past weekend's game can pay heavy dividends to the Panthers and Dolphins as they were hands on with some of the top draft prospects in the 2021 NFL draft coming soon.
It also allowed these young men to get an idea what they are in for on the next level!
Here are some of the names that stood out throughout the week and who might soon be playing on your favorite team.
MVP player Kellen Mond, QB, Texas A&M who was on the losing team but still earned the MVP of the game as he played very well. The Texas A&M quarterback played the first and third quarters and overall took advantage of the additional reps afforded him by the injury to Alabama's Mac Jones which kept him out of the game...Mond completed 13 of 25 passes for 173 yards, leading an American squad comeback from a 13-0 deficit to a 16-13 lead with two third-quarter TD passes, prompting NFL Network analyst Daniel Jeremiah to say Mond "is making a little money today," during the broadcast of the game...He was named as the game's Most Valuable Player afterwards by helping the American team to a 58 yard and then a 42 yard touchdown drive to turn a 13-0 halftime deficit into a 16-13 lead going into the last stanza when he was removed from the game. Mond wound up 13 of 25 throwing the ball (9 of 15 in the second half) for 173 yards with two touchdowns and no interceptions as well as a two point conversion running and another one passing. He also chipped in two runs for 15 yards on the ground.
Mond's head coach this week, the Carolina Panthers' Matt Rhule, liked what he saw from the QB…"We're talking about a really, really football-smart guy here," Rhule said after the game. "He's got one of those memories. You give him a play and he knows it. He kind of got into a rhythm there in the third quarter, just ripping some seam balls, making some plays. I think he's got a bright future."
Other notable players who made some news in the game:
2021 Senior Bowl: Daniel Jeremiah's top 10 NFL draft winners from week of practice
Carlos "Boogie" Basham, DE, Wake Forest, Michael Carter, RB, North, Carolina, Demetric Felton, RB/WR, UCLA, Richie Grant, S, UCF, Robert Hainsey, OL, Notre Dame, Cade Johnson, WR, South Dakota State, Mac Jones, QB, Alabama, Quinn Meinerz, interior O-lineman, Wisconsin-Whitewater, Quincy Roche, edge rusher, Miami, D'Ante Smith, OT, East Carolina
Alabama QB Mac Jones, Notre Dame QB Ian Book, UCLA WR-RB Demetric Felton, North Carolina RB Michael Carter, Louisville WR Dez Fitzpatrick, Western Michigan WR D'Wayne Eskridge, Michigan WR Nico Collins, Wisconsin-Whitewater OG Quinn Meinerz, North Dakota State OT Dillon Radunz, Grambling State OG David Moore, Tulane DL Cameron Sample, UCLA DT Osa Odighizuwa, Ohio State EDGE Jonathon Cooper, Ohio State EDGE Jonathon Cooper, Houston LB Grant Stuard, Washington CB Keith Taylor, UCF S Richie Grant
I do not consider any of these players losers as there is plenty of tape of them playing throughout their college careers to review and one game will not make or break any one player. The Dolphins and Panthers are the true winners having spent the week with their hands on some of the top talent in the upcoming NFL Draft…Huge Success!
Hopefully Miami will land a few of these players in 2021.
Please help create better content in the future as well as giveaways such as upcoming TDS T-Shirts, Game Tickets, Giveaways, and cashback opportunities. For as little as .99 cents a month you can contribute to the growth of TDS and the podcast.
So click on the sponsor, there are 3 monthly price ranges to choose from .99 basic content /4 .99 with special content with more giveaways / 9.99 premium that will get you even more special content as well as many more giveaways others will not enjoy! (Click Here To Support!)
PLEASE GRADE THE ARTICLE AT THE TOP (1-5 STARS)!
(((((((COMPUTER GENERATED WEEKLY PREDICTIONS IN LATEST PODCAST))))))))
((((Please support my site by listening to my podcast I have sponsors!))))
Get This Weeks Prediction On TDS PODCAST!