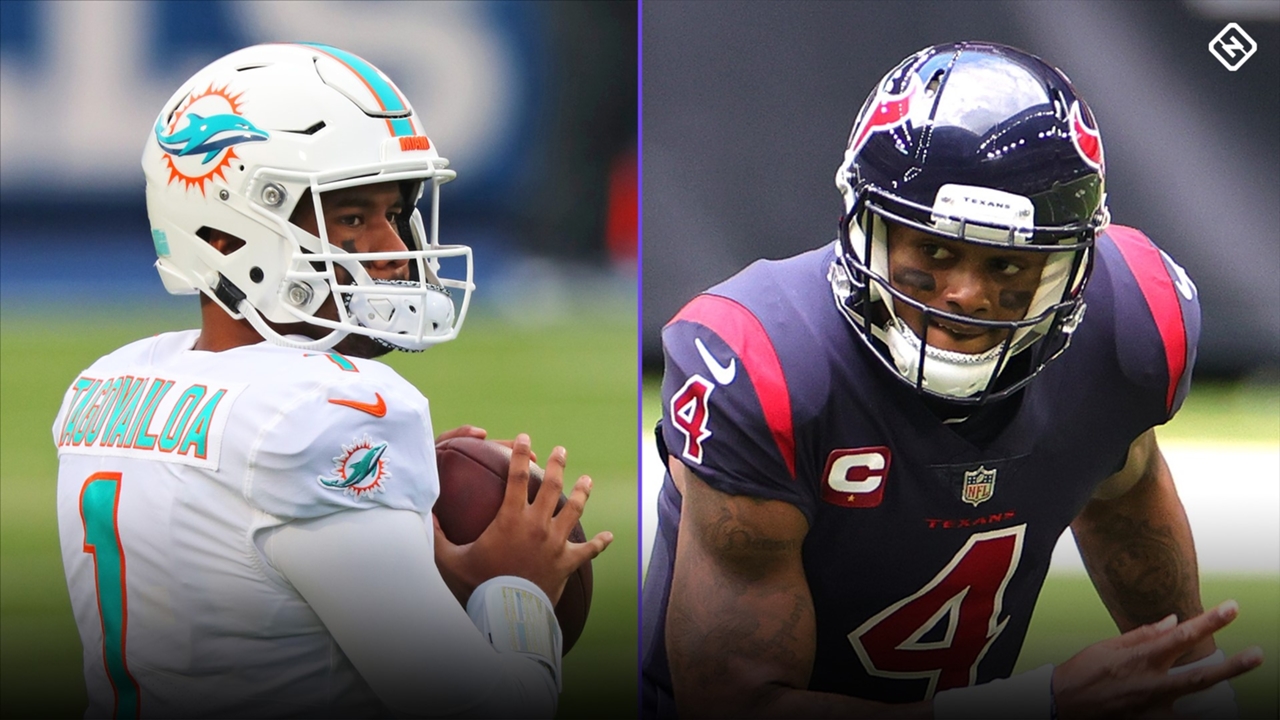 Amidst persistent rumors that Houston Texans Pro Bowl QB wants and even have requested a trade and that Miami is his preferred destination, many have already dismissed our Rookie QB Tua Tagovailoa as an afterthought after just 9 games starting in his rookie season and in an offensive system that was more beneficial for Ryan Fitzpatrick than Tua because Ryan has played with Chain Gailey for many years, Ryan also have been in the NFL for well over 16 years. So, to compare a Rookie QB who was denied a regular offseason of OTA's and training camp, no preseason games and having the Lovable Fitzpatrick on the team a year earlier is just unfair.
So, he is being compared to a 16-year veteran who had his old friend and HC/OC as Miami's OC and to cap it off both QB's drafted this year just ahead and just after Tua had arguably better seasons. (I argue NOT) statistically Tua's numbers were at best average. But he did have more wins than Herbert, Burrow and Watson! (6-3)
What a stark contrast from when Miami drafted the college all-star #5 in the 2020 draft, where many Dolphins fans were as ecstatic and giddy as have not been seen since the Glory Days Of Dan Marino! Now after just 9 games many have soured on Tua and some are expressing byers remorse and are saying the Dolphins took the wrong QB after Justin Herbert's ROY rookie season. So, let's look back at some rookie QB's who lit the NFL on fire or as I will describe started out of the gates fast but as we all know it's how the horse finishes the race that matters.
2012 Robert Griffin III Rookie Season:
Robert Griffin III of the Washington Redskins won The Associated Press 2012 NFL Offensive Rookie of the Year award, beating out two other sensational first-year quarterbacks. Griffin had 3200 yards passing, 20 TD's and 5 INT's. He also had 815 yards rushing on 120 total attempts. How did his career turn out?
Ryan Tannehill who also was drafted that year has had a better career. Andrew Luck also drafted that year 2012 and retired in 2018 also have better career stats than RG III. Russell Wilson also drafted that year in the 3rd round Need I say more.
2011 Cam Newton Rookie season:
 Carolina Panthers quarterback Cam Newton won the 2011 Associated Press NFL Offensive Rookie of the Year award. Newton is the second straight No. 1 overall draft pick to take the honor in voting by a nationwide panel of 50 media members who regularly cover the league. Newton had 4051 yards passing, 21 TD's and 17 INT's. He also had 706 yards rushing and 14 TD's. (A combined 31 TD's!!!)
Cam received his Offensive Rookie of the Year, and Pepsi NFL Rookie of the Year awards on the inaugural NFL Honors award show, with 47 of the 50 possible 50 AP votes (the other 3 going to Andy Dalton). He was named to the PFWA All-Rookie Team, becoming the third Panthers quarterback to claim this award, joining Kerry Collins (1995) & Chris Weinke (2001).
He also landed the number 5 and 2 play of the year with his 49-yard touchdown run against the Tampa Bay Buccaneers (5), and his touchdown fumblerooski to Richie Brockel vs. the Houston Texans. He has the nickname Superman due to his touchdown celebration. Newton was rated as the 40th best player in the NFL by his peers on the NFL Top 100 player list. His rookie season was when he started the Carolina Panther tradition "Sunday Giveaway", where the Panthers offensive players typically give away the football that they just scored a touchdown with to kids in the stands. Wikipedia
Look at Newton now!
Other Rookie Seasons of notable QB's
I have already listed in a previous article of Rookie QB's who had worse rookie seasons than Tua who are now "Hall Of Fame Players" (See Here)
So, Miami is being encouraged by many to take a good look at the Houston's QB situation that appears to be broken, even though Houston rightfully so is trying their best to mend the situation, I have stated my position on the matter, I am on the fence on this one and I trust Miami's management and will support whatever decision they make. I can see us with Watson as well as I can see Miami moving ahead with Tua, I feel either way is a win/win!
I do feel the Dolphins need to still add a few more pieces to our defense through free agency and then use all their draft capital to get skilled players on the offensive side of the ball to build around Tua if he is the QB we move forward with!
So until the Dolphins make a move I will be 100% supportive of keeping Tua because it truly intrigues me of the potential Tua brings to the table. I look at two games this year that excite me about his potential, the game against the Arizona Cardinals and his game vs the Kansas City Chiefs both games where he played to his potential and that is at the floor level!
Let us just trust the Men and the process that had our Dolphins at 10-6 in year two of their rebuild with the 2nd youngest team in the NFL!
Fins Up!
Please help create better content in the future as well as giveaways such as upcoming TDS T-Shirts, Game Tickets, Giveaways, and cashback opportunities. For as little as .99 cents a month you can contribute to the growth of TDS and the podcast.
So click on the sponsor, there are 3 monthly price ranges to choose from .99 basic content /4 .99 with special content with more giveaways / 9.99 premium that will get you even more special content as well as many more giveaways others will not enjoy! (Click Here To Support!)
PLEASE GRADE THE ARTICLE AT THE TOP (1-5 STARS)!
(((((((COMPUTER GENERATED WEEKLY PREDICTIONS IN LATEST PODCAST))))))))
((((Please support my site by listening to my podcast I have sponsors!))))
Get This Weeks Prediction On TDS PODCAST!