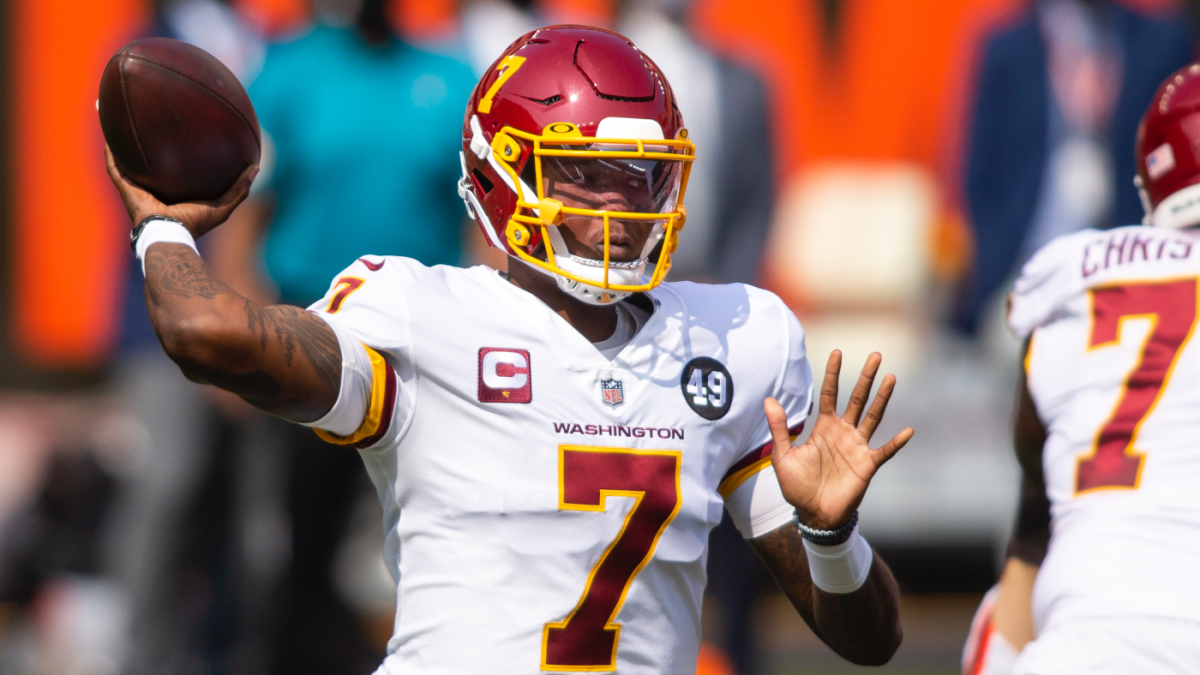 Dwayne Haskins Jr. is an American football quarterback who is a free agent. He played college football at Ohio State University, where he threw 50 touchdowns in 2018, his lone starting season, one of just several quarterbacks to reach the milestone in a single NCAA season.
He was drafted by the Washington Redskins in the first round of the 2019 NFL Draft, 15th overall. Despite his high school and college jersey number of 7 being unofficially retired by the Redskins in honor of quarterback Joe Theismann, whose career ended with a leg injury in 1985, Haskins requested and was granted permission from him to wear it. Haskins signed his four-year rookie contract on May 9, 2019.
Haskins did not have a good rookie season in 2019 and things went downhill from there as in 2020 after losing body fat and getting in shape, being named a team Captain. Haskins was benched prior to the Week 5 game against the Los Angeles Rams due to coaches being unimpressed with his work ethic and performance. In October 2020, he was fined $4,833 for breaking league COVID-19 protocols for making a reservation for a family friend at the team hotel in New York prior to a game against the Giants
He remained the team's backup until the Week 14 game against the San Francisco 49ers, where he played in the second half after Alex Smith left the game due to a calf strain. He then started the following week's game against the Seattle Seahawks as Smith had yet to recover and threw for 295 yards and one touchdown with two interceptions during a 20–15 loss. Following the game, Haskins was photographed attending a party without wearing a face mask. Due to breaking COVID-19 protocols again, he was fined $40,000 by the team and lost his status as a captain.
Despite that, he started the next game against the Carolina Panthers but was benched for Taylor Heinicke in the fourth quarter after throwing 14 of 28 for 154 yards and two interceptions, finishing with a passer rating of 36.9 in a 20–13 loss.
Haskins was released by the team the day after, with head coach Ron Rivera saying he believed that it benefited both parties if they went their separate ways. The move came after other reports of him making poor decisions and not meeting the team's standards off the field. (Wikipedia)
Haskins is exactly the opposite of our Rookie QB Tua Tagovailoa as he possesses the measurables Tua lacks and the arm strength but Tua possess the maturity that Haskins lack. Haskins is still just 23 years old and the only knock on him was his lack of maturity. Some team will take a chance on him, so I ask why not Miami?
The Dolphins have a very young team that will most likely get even younger this off-season and they have built a family atmosphere that can aid an immature person like Haskins. I also think Brian Flores can influence Haskins and get him to run through a wall for Flores.
They also have a need for a backup QB as I do not think or want Fitzpatrick back because he is just good enough to be dangerous for Miami.
The Dolphins are still rebuilding and there is room for a young immature QB who has a rocket arm, is mobile and just needs to get out of his home territory and grow up so I ask again why not Miami?
Please help create better content in the future as well as giveaways such as upcoming TDS T-Shirts, Game Tickets, Giveaways, and cashback opportunities. For as little as .99 cents a month you can contribute to the growth of TDS and the podcast.
So click on the sponsor, there are 3 monthly price ranges to choose from .99 basic content /4 .99 with special content with more giveaways / 9.99 premium that will get you even more special content as well as many more giveaways others will not enjoy! (Click Here To Support!)
PLEASE GRADE THE ARTICLE AT THE TOP (1-5 STARS)!
(((((((COMPUTER GENERATED WEEKLY PREDICTIONS IN LATEST PODCAST))))))))
((((Please support my site by listening to my podcast I have sponsors!))))
Get This Weeks Prediction On TDS PODCAST!!