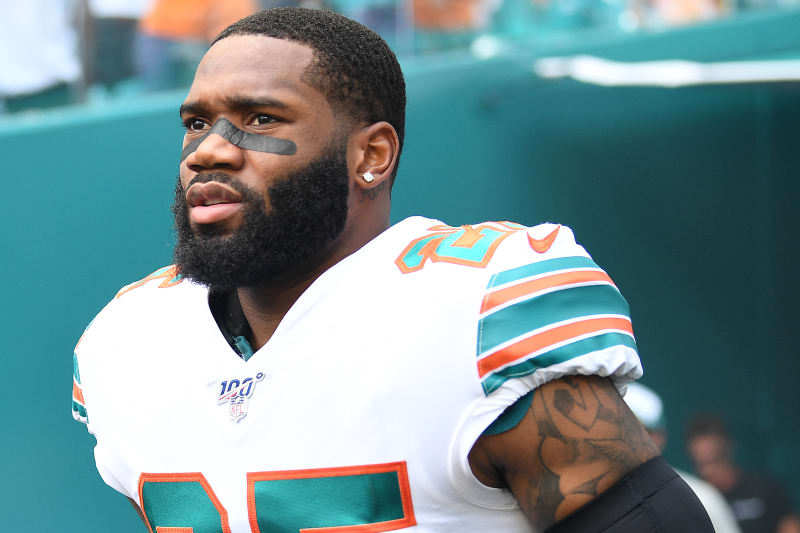 As many of you are aware the Dolphins are still in rebuild mode and that involves two things, adding young talent to the roster and purging players who don't fit this team moving forward.
Gone over the past two seasons are players we had come to love and appreciate, players like: QB Ryan Tannehill, LT Laremy Tunsil, DE Cameron Wake, LB Kiko Alonso, FS T.J. McDonald, SS Reshad Jones, SS Minkah Fitzpatrick, RB Kenyan Drake, DE Robert Quinn, LB Raekwon McMillan, DE Charles Harris just to name a few.
The new players who helped Miami exceed 2020 expactations were players like: QB Tua Tagovailoa, LB Jerome Baker, LB Andrew Van Ginkel,DL Raekwon Davis, OL Ereck Flowers, RB Myles Gaskin, TE Mike Gesicki, OL Solomon Kindley, OG Robert Hunt, LT Austin Jackson, OC Ted Karras, DE Shaq Lawson, DT/E Emmanuel Ogbah, S Eric Rowe, K Jason Sanders, LB Kyle Van Noy, DT Christian Wilkins, CB Byron Jones, S Brandon Jones
If you noticed I left out some players who I feel it's time to move on from and I will tell you who they are and why Miami needs to move on from them.
Ryan Fitzpatrick was an excellent signing in 2019 when Miami was transitioning from Ryan Tannehill. Fitzpatrick endeared himself to the fans the players and anybody who roots for the good guy! He is smart and his personality is infectious. So why should Miami move on from Ryan?
Ryan did a good job of mentoring Tua and make no mistake about it Tua is our QB of the future moving forward despite the Watson rumors! (Or at least he should be!) Brian Flores did a great job in handling a rookie QB and at the same time doing what he could to give Miami a chance to make the playoffs, so benching his rookie in favor of providing a "Spark" in the two games he did vs Denver and vs the Raiders was the right thing to do.
That cannot happen next season because the team and HC Brian Flores needs to show their full support of for our young QB of the future and he should not have to be looking over his shoulders with the threat that a fan favorite and player favorite is on the bench ready to be inserted at any time. Technically he is already out the door because his contract ended this season.
Miami should seek a younger QB through free agency or the draft that can come in and compete for the starting job, a person who provides a much fairer competitive advantage for Tua than to have him competing with the Wiley 16 year veteran QB Ryan Fitzpatrick. It's time to take his magic show on the road!
Yes, Xavien Howard is one of if not the best CB's in the league and he had a pro-bowl year and he also should be in serious contention for defensive player of the year. He is at his zenith and thinking only business or like an investor he is prime target for trading!
Like in the Stock Market buy low sell high!
Howard is a lot like ex Dolphin player Reshad Jones who was more about self than team and his actions this offseason will prove that point. It has been reported that Xavien Howard will be looking to renegotiate his 5-year contract he signed in 2019.
At the time the Dolphins signed CB Xavien Howard to a record five-year, $76.5 million extension that includes $46M guaranteed, making him the highest paid CB in the NFL, sources tell ESPN. It's the largest extension for a CB.
So just two years into his contract he signed where Miami showed him respect and made him the highest paid CB in the league, he now wants to get a new deal.
In 2019 when he got that new contract he played 5 games due to injury and I don't recall the Dolphins asking him to pay back some of the money he got because he was injured? He might would have played the 2019 season and not had such a great year.
Here is the truth about Xavien Howard in the 5 years he has been a Dolphin player he has only two seasons where he's played 16 games (2017 & 2020) and still Miami went to bat in 2019 and made him at the time the highest paid CB in the game! So, if it comes to light that Xavien Howard wants a new deal, Miami should look to trade him! A "Me First" attitude that such a move will prove is the kind of player HC Brian Flores deplores!
As of the writing of this article he has fired his agent and brought in a new agent all signs that he will be seeking a New Deal. Time to move on!
Parker has frustrated me more than any player in Dolphins history! He has all the talent in the word but lacks the Mental Toughness that you see in players like former Dolphins WR Jarvis Landry! I often said if we could transfer Landry's brain into Parker we would have had the best WR in the league since he was drafted.
Much like Xavien Howard, Parker has been MIA more than available. Out of his 6 years in Miami he has NEVER started 16 games, and half of them were single digit starts!
I love Jakeem but he is a one trick pony and even with all that speed he is just to small to sustain the hits he has taken and his body is breaking down. I am not sure if I want him gone more than want another player to be brought in and compete for his job! A player who will also bring more to the table than just special teams play.
S Bobby McCain,
Miami needs an upgrade! McCain has heart and he plays his butt off, but he is not a true safety and never have been! I also can apply this to Eric Rowe as I posted a while back that Miami needs to upgrade the safety position. (See Are The Dolphins Safe at Safety) They can hide their flaws vs average teams but once we face the elite teams we will get exposed.
Please help create better content in the future as well as giveaways such as upcoming TDS T-Shirts, Game Tickets, Giveaways, and cashback opportunities. For as little as .99 cents a month you can contribute to the growth of TDS and the podcast.
So click on the sponsor, there are 3 monthly price ranges to choose from .99 basic content /4 .99 with special content with more giveaways / 9.99 premium that will get you even more special content as well as many more giveaways others will not enjoy! (Click Here To Support!)
PLEASE GRADE THE ARTICLE AT THE TOP (1-5 STARS)!
(((((((COMPUTER GENERATED WEEKLY PREDICTIONS IN LATEST PODCAST))))))))
((((Please support my site by listening to my podcast I have sponsors!))))
Get This Weeks Prediction On TDS PODCAST!!