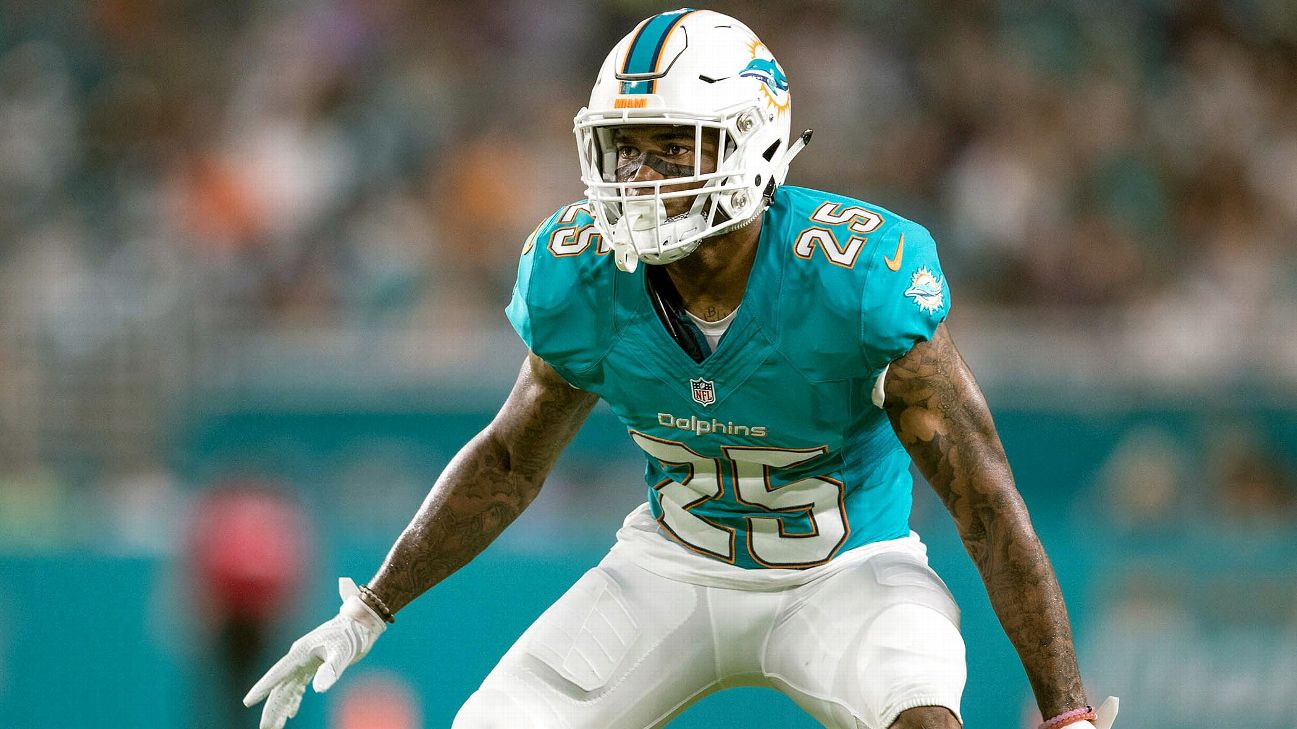 No, I am not crazy and just hear me out on this issue before you call the doctors….
Yes, I think this offseason is the perfect time to shop Xavien Howard because he is at the top of his game and Miami will not get a better opportunity to cash in and continue to load up on draft capital. Don't forget we are just in year two of the rebuild!
Miami could get at least another Laremy Tunsil deal for arguably the best cornerback in the league. Howard has made his case for Defensive Player of The Year and he will get many votes because of his league leading 9 interceptions, Howard has more INT's than some teams!
Two weeks ago Brian Miller of Finsided noted this:
The Bengals, Falcons, Jaguars, Jets, and Chargers all have nine interceptions on the season so far. The Texans have a team-high three, the Eagles have four, the Cowboys and Panthers have five, and the Lions and Bears both have seven. The Ravens, Packers, and Broncos are one behind with eight apiece.
That's 9 teams that have less INT's than Howard and 13 teams that don't have more!
So you are asking why would we want to trade our best player on the team? My answer is because of Reshad Jones! WHAT??!!!
Ok. let me explain!
At one time former Miami Dolphins Safety Reshad Jones was one of my favorite Dolphins players, I loved the guy from the first day they drafted him and throughout his early career. He was drafted by Miami in the 5th round of the 2010 NFL Draft. He instantly became a thumper/baller and I loved him.
I endorsed the extension he got in 2013 I also called him out in the following season in 2014 when he had an off year just after signing his extension. Reshad did not offer to give any money back after a slump year in 2013!
Well, Reshad finally bounced back in 2015 and had a very good season two years into his 4 years extension. So after finally living up to his contract and having a good year in 2015 he wanted another extension! that is when I turned on Jones because he and his agent wanted more money despite a poor 2013 season when he signed his extension and having 2 years left on his deal! I got tired of this guy's selfishness and antics (Holding Out) and was upset when Mike Tannenbaum caved in and extended his contract in 2017 (He should have traded Jones) signing him to a 4-year extension added on to his current deal so it was a 5-year deal for $60 million with $35 million guaranteed.
Jones at the time was 29 years old and IMO not worth the money he was given, and time proved me correct! The guy was selfish and his "ME FIRST" attitude ruined what was a very good career in Miami and he is still on the outside as a Free Agent at 32 years old.
Rumor has it that Xavien Howard wants a new deal:
According to Armando Salguero of the Miami Herald, Howard's camp will ask the team to renegotiate the five-year, $75M contract that Howard signed with the 'Fins in 2019. Although the contract made Howard the highest-paid CB in the league at the time, he is now the sixth-highest-paid corner, one spot behind teammate Byron Jones and his $16.5M average annual value. Plus, Jones' $46M in full guarantees dwarfs Howard's $27.2M, and Howard is looking to strike while the iron is hot.
Howard is just in year 2 of a 5-year extension and as is always the case once a player signs an extension making him the highest paid player at his position it won't take long for that to be surpassed by the next good player.
Don't get me wrong I love Howard but just like with Jones who crossed that thin line between love and hate, if these rumors are true than Howard will be on my hate side because I feel it is the height of selfishness and that is the kind of players that head coach Brian Flores does not want on this team.
Miami can renegotiate his contract giving him a new signing bonus and appeasing his ego, but I say let's shop him and get what we can get and move on!
Howard is 27 years old and will be 28 by the beginning of the 2021 season so he is still in his prime and Miami actually holds the leverage in this case and instead of repeating the mistake of Mike Tannumabaum I for one feel Miami should look to deal Howard for draft picks and use one of their top picks to bring to Miami the son of one of my favorite Dolphins corners by drafting Patrick Surtain II with the 3rd pick in the 2021 draft if they decide to move on.
The reports were out before the trade deadline that Miami was listening to trade offers but did not get what they wanted, I am sure this offseason some of the teams that now wish they had made a deal will come calling again and as Miami Fantasy GM I am making that deal!
The Dolphins are in year 2 of a rebuild and the future is about youth and with 3-4 first round picks in the 2021 draft Miami can stock their cupboard with some young talent that with Brian Flores at the helm can develop into a dynasty!
What do you think would you trade Howard?
Please help create better content in the future as well as giveaways such as upcoming TDS T-Shirts, Game Tickets, Giveaways, and cashback opportunities. For as little as .99 cents a month you can contribute to the growth of TDS and the podcast.
So click on the sponsor, there are 3 monthly price ranges to choose from .99 basic content /4 .99 with special content with more giveaways / 9.99 premium that will get you even more special content as well as many more giveaways others will not enjoy! (Click Here To Support!)
PLEASE GRADE THE ARTICLE AT THE TOP (1-5 STARS)!
(((((((COMPUTER GENERATED WEEKLY PREDICTIONS IN LATEST PODCAST))))))))
((((Please support my site by listening to my podcast I have sponsors!))))
Get This Weeks Prediction On TDS PODCAST!