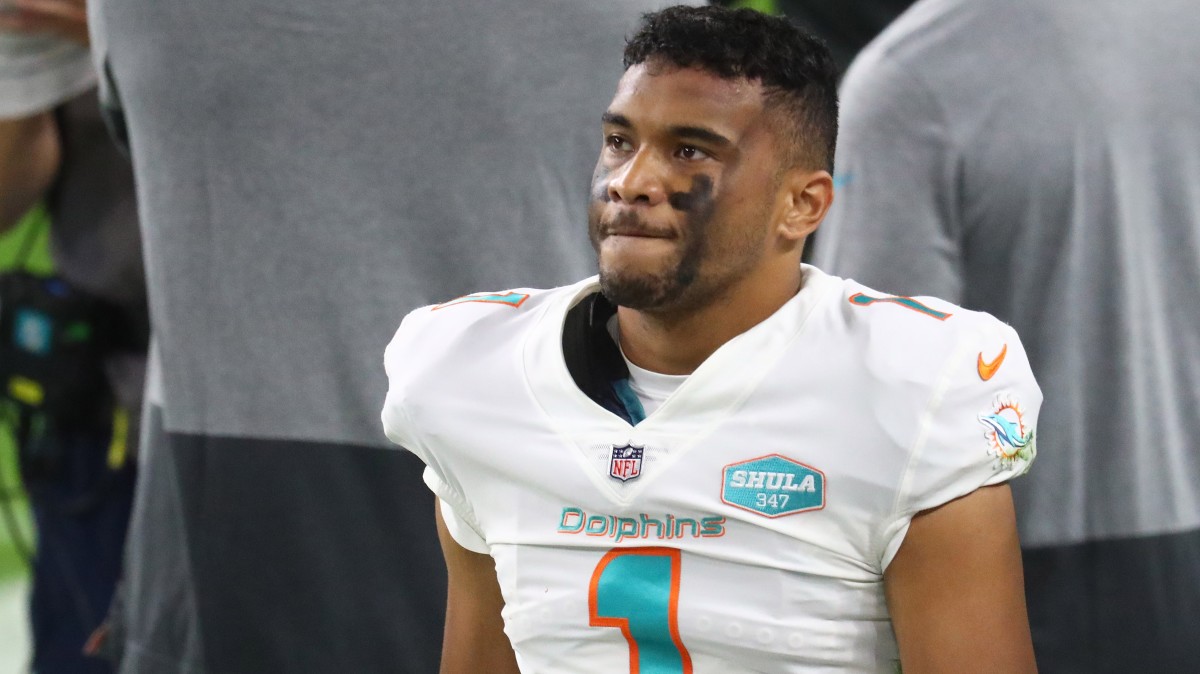 Despite many questioning the way Brian Flores handled his young Rookie QB Tua Tagovailoa, from when he decided to start Tua to his willingness to pull Tua from the game if he is ineffective and the Dolphins will lose the game, when it all is said and done Brian Flores has played this thing correctly 100%! The only thing that he might should have done differently was to pull Tua a little earlier against the Broncos.
Miami will always be second guessed because of the success that the Chargers have had with their rookie QB Justin Herbert who has had a great 2020 rookie season, and after Joe Burrow went down in November, Herbert is the clear-cut favorite to win Offensive rookie of the year.
Miami who passed on Herbert chose who would have been the clear-cut favorite to be the number 1 QB drafted had he not suffered a serious hip injury his last year in college.
As of now the Dolphin haters or lovers of Herbert will say that Miami made the wrong choice in passing up Herbert for Tua. I on the other hand look at it as both Miami and the Chargers would not have gone wrong taking either QB.
Now that we have Tua, he is who I am focusing my attention on and his development. So here is my early assessment of Tua and what I think the future will hold for our Rookie QB.
The Good:
Tua's best trait so far is his protection of the ball as his TD to INT ratio is one of the best in the NFL. Yes, there are some passes that might should have been picked off by a few defenders but out of the 2 int's he has thrown both were tipped balls if I recall correctly. Another good quality I see is his accuracy and poise and ability to read defense at this early stage.
Some who look at Burrow and Herbert's early success will say that Tua is the worst of the three. I will try and reason with those of you who are willing to keep an open mind on this issue and for those whose minds are made up, I have nothing to say but time will tell.
So let's look at Tua's numbers and compare them to some history of QB's who are and have been successful after having a pedestrian to terrible Rookie season and in some cases a nightmare beginning to their NFL career. Eventually we must come to the conclusion on all of the rookie QB's drafted this year that it is way to early to tell how things will end up!
I think I am the perfect Dolphins fan to offer a true and fare assessment of Tua because unlike so many Dolphins fans I was not one of those who overreacted when Miami Drafted Tua and if you go back before the draft I was more on board on passing on any QB and drafting a defensive player with our first round pick.
My feelings when Miami made the selection of Tua at the time was, I hope it works out and I will have to give Tua a chance to grow on me. After seeing him start for the past 10 weeks I am all in on Tua and have no regrets that Miami drafted him, I see a lot of positives that Miami can and will build on moving forward with Tua.
So let's look at a young QB who is in his 3rd season who started off a lot like Tua but has developed into a top NFL QB in his 3rd season. It is this week's opponent QB Josh Allen, let us look at his rookie season.
Josh Allen 2018 Rookie season stats: 12 starts, 320 Attempts, 169 completions with a 52.81 completion percentage, 2074 yards passing, 10 TD's, 14 Int's 28 sacks and a QBR of 67.9!
Tua Tagovailoa 2020 Rookie season (To Date) 8 starts, 232 attempts, 151 completions with a 65.1 % completion percentage, 1453 yards passing 10 TD's, 2 Int's 19 sacks and a QBR of 93.2!
The reality is some QB's take time to develop before they reach their potential, some QB's start off slow and develop into Hall of fame QB's some start off fast and never sustain the way they played early on as teams get film on them.
List of Great QB's who had Awful Rookie Seasons (Mind you Tua is not having an awful Rookie season)
Troy Aikman, Dallas Cowboys: Aikman went 0-11 as the team's starter and his stats were atrocious. Aikman only threw for 1,749 yards, nine touchdowns, and 18 interceptions. He ultimately had a 55.7 quarterback rating.
John Elway, Denver Broncos: During his rookie season in 1983, Elway went 4-6 as a starter. He ultimately only threw for 1,663 yards, seven touchdowns, and 14 interceptions. His quarterback rating was 54.9.
Terry Bradshaw, Pittsburgh Steelers: Bradshaw went 3-5 in eight starts during his rookie season with the Pittsburgh Steelers in 1970. Starting in eight games, he appeared in 13 games total. He threw for 1,410 yards, six touchdowns, and 24 interceptions. He had a 38.1% completion percentage and a 30.4 quarterback rating.
Peyton Manning, Indianapolis Colts: In his rookie season with the Indianapolis Colts, he went 3-13 as a starting quarterback. He threw for a lot of yards but still struggled. He finished his rookie season with 3,739 passing yards, 26 touchdown passes, and 28 interceptions.
The article concluded:
Manning is one of the greatest NFL quarterbacks to ever play. The other three guys on this list are all Hall of Fame QBs. Just because a quarterback has struggled does not mean they can't turn it around in the future, and these guys proved that.
Why Tua will get better.
Player Development has been the key to Miami's current success, and I see no change moving forward and Brian Flores will make sure his young QB gets all the help he needs to develop into a top NFL QB! That I can guarantee!
Miami's head coach Brian Flores has handled Tua's development just fine and this business of benching him on two occasions in his 8 starts has not done anything to destroys Tua's confidence and was done more so for the team as some players deserve to make it to the playoffs. Especially on the Defensive and special Teams side of the ball.
What Tua needs to do better!
Tua needs to do a better job of throwing the ball down field. I am not sure if he is being coached to not take risk like Fitzpatrick does but eventually, he needs to learn how to throw into tight coverage to give his receivers the chance to make a play and worry a little less about INT's especially in preseason and practice! He needs to be told to take some chances and he also needs to get more help across the line on offense from this upcoming offseason and draft!
Despite his conservative play the one thing Tua has done that is unmatched by his rookie competitors is what matter the most his win loss record as a starter Tua is 6-2 (Fitz Magic's 2 relief rolls netted a 1-1 result) Herbert is 6-9 as a starter and Burrow is 2W-7L-1T.
Tua and Miami have a great chance to get into the playoffs and if they do, they can beat anybody as we have seen throughout the season when they played well enough to beat KC, Seattle & Buffalo. They did exactly what coach Flores has preached gotten better week in and week out and the future is scary as to how good Tua and the Dolphins will be!
Please help create better content in the future as well as giveaways such as upcoming TDS T-Shirts, Game Tickets, Giveaways, and cashback opportunities. For as little as .99 cents a month you can contribute to the growth of TDS and the podcast.
So click on the sponsor, there are 3 monthly price ranges to choose from .99 basic content /4 .99 with special content with more giveaways / 9.99 premium that will get you even more special content as well as many more giveaways others will not enjoy! (Click Here To Support!)
PLEASE GRADE THE ARTICLE AT THE TOP (1-5 STARS)!
(((((((COMPUTER GENERATED WEEKLY PREDICTIONS IN LATEST PODCAST))))))))
((((Please support my site by listening to my podcast I have sponsors!))))
Get This Weeks Prediction On TDS PODCAST!