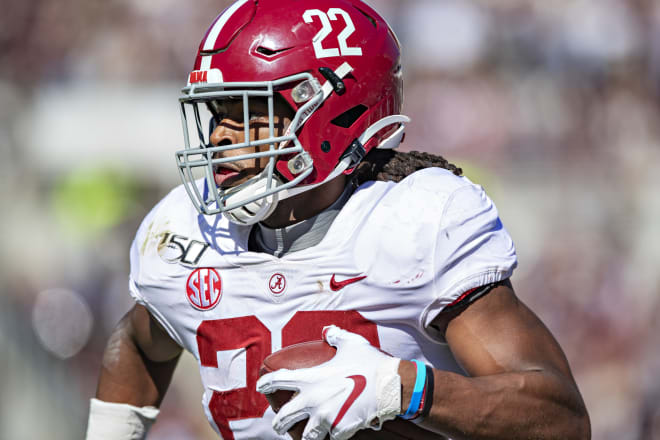 It is funny how the NFL has devalued the RB position up until crunch time and the playoffs when they rely on them heavily! The Dolphins have not taken the RB position seriously enough for my taste and I hope come next April that they finally do something they have yet to do at the position since 2005 and draft a RB in the first round or since 2011 and draft a RB in the 2nd round.
We currently have 3 RB's drafted in the 7th round Malcom Perry (RB/WR) in 2020, Chandler Cox (RB/FB) and Myles Gaskins in 2019. We have 2 undrafted RB's Salvon Ahmed and Patrick Laird, we have 2 RB 's we traded for Matt Breida (undrafted free agents, on May 4, 2017) and DeAndre Washington (drafted by the Raiders in the fifth round)
All of these guys are solid players but not one of them scare anybody and at best they are all average.
Last year in the draft many of us KNEW Miami would draft a RB high in the draft because it was truly a need and there were some very talented RB's in that draft that SHOULD HAVE BEEN drafted with one of our 3 first round picks!
Miami passed on all of them and the one pick that surprised many of us who felt was the perfect spot to draft one of the young talented RB was the pick they used on CB Noah Igbinoghene who was taken in the 1st round with the 3rd of 3 first round picks Miami had at pick number 30! None of the top rookie RB's had been taken at that time and soon after Miami passed on the RB's they started to come off the board!
KC picked Clyde Edwards-Helaire 803 yards rushing this season with the 32nd pick, The Lions took D'Andre Swift at 34, The colts took Jonathan Taylor 936 yards rushing this season (my personal favorite) at 41 and Cam Akers was taken at 52 by the Rams and one pick before our next pick in the 2nd round RB J. K. Dobbins was taken with pick # 55. I do feel that even if J. K. Dobbins was there at our 56th pick Brian Flores seemed to be set on taking DT Raekwon Davis from Alabama with the 56th pick no matter what.
So Miami took the Cheap route after flirting with stud RB Melvin Gordon who torched us when we lost to Denver and who is currently averaging 4.7 YPC for the Bronco's and just under a 1000 yards rushing! They signed RB Jordan Howard for less money and traded for UDFA Matt Breida. How did that turn out?
Miami's history shows that their BEST RB's in team history were first round picks!
The Best RB to ever wear a Dolphins uniform was Ricky Williams who was drafted by Mike Ditka in 1999 5th overall in that draft. The 2nd best RB in Miami's history was Larry Csonka who Don Shula drafted 8th overall in 1968. the 3rd best RB in Miami history was Ronnie Brown taken 2nd overall in the 2005 NFL draft and played great for Miami especially running the "Wild Cat" offense that stunned New England in their house in a rare home loss by Belichick in fact it was a blowout 38-13 Ronnie Brown had Five Touchdowns in that game!
The Dolphins need to stop looking for some deal or having the idea that you can get a RB from anywhere even an undrafted RB and have success, yes it has worked sometimes and many of you can point to an example or two but for the most part history has shown that RB's drafted high tend to be the better Backs long term.
Hopefully, Miami will finally use one of their early round picks on one of the top young RB's in the 2021 draft in the first or 2nd round! Names to look for:
TRAVIS ETIENNE, CLEMSON , JAVONTE WILLIAMS, NORTH CAROLINA, NAJEE HARRIS, ALABAMA, KENNETH GAINWELL, MEMPHIS, KHALIL HERBERT, VIRGINIA TECH, CHUBA HUBBARD, OKLAHOMA STATE
Hopefully one of these young studs will be in a Dolphins uniform in 2021! Time to get serious and invest a top pick on an RB this year!
Please help create better content in the future as well as giveaways such as upcoming TDS T-Shirts, Game Tickets, Giveaways, and cashback opportunities. For as little as .99 cents a month you can contribute to the growth of TDS and the podcast.
So click on the sponsor, there are 3 monthly price ranges to choose from .99 basic content /4 .99 with special content with more giveaways / 9.99 premium that will get you even more special content as well as many more giveaways others will not enjoy! (Click Here To Support!)
PLEASE GRADE THE ARTICLE AT THE TOP (1-5 STARS)!
(((((((COMPUTER GENERATED WEEKLY PREDICTIONS IN LATEST PODCAST))))))))
((((Please support my site by listening to my podcast I have sponsors!))))
Get This Weeks Prediction On TDS PODCAST!