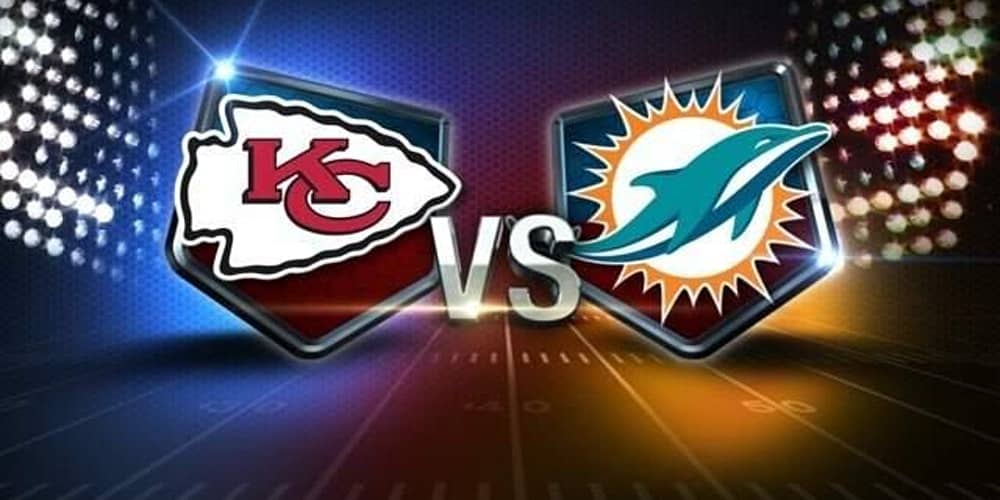 It is getting real now as the schedule for the month of December is very challenging and there is no more challenging game than our next opponent the current defending Superbowl champs Kansas City Chiefs who are currently on a 7-game win streak and have yet to lose a road game this year. The Chiefs are improved over last year's SB team because on Defense they are even better and have been basically unstoppable on Offense and Nobody expects Miami to win this game.
This game is a measuring stick for Miami and the only way they can lose is if they get blown out and I do not see that happening with this Dolphins team that is always well prepared. So if they hang close and the game is within 10 points the Dolphins will have done well, but I know B Flow and nothing short of winning will please him.
On to the matchup
The Opponent
Kansas City Chiefs @ Miami
Where: Hard Rock Stadium (Miami Gardens, FL)
When: Sunday, December 13
Time: 1:00 p.m. ET
Point Spread: Chiefs -7
O/U 49.5
TV: CBS
On to the match ups
The matchup: on Offense
The Kansas City Chiefs are ranked 1st in total offense averaging 427.6 yards per game on offense, scoring 30.8 points a game while Miami ranks 28th on offense averaging 319.8 yards per game on offense, scoring 25.3 points per game (Down from last week) 16th in the league in scoring offense.
The matchup: on Defense
The Kansas City Chiefs defense is ranked 17th in total defense and is giving up on average 358.2 yards per game and allowing 21.2 points per game, while Miami is ranked 16th in total defense (Up from last week) giving up on average 355.2 yards per game 17.7 points per game (2nd in the league by a .1-point difference).
The Strategy:
For the Dolphins:
Miami coming off an ugly win in a game marred with dirty play by the Bengals, did seem to find some success with the up-tempo offense they ran after halftime adjustments last week and they might try that approach this week. Tua had his best passing game of his short rookie season this past week when he threw for 296 yards and he still has no INT's after 5 starts.
Miami (despite their poor run game) needs to try and run the ball none the less as the best way to beat the Chiefs is to keep their offense off the field and win the time of possession in this matchup.
Miami's bend but don't break defense need to bend less because Patrick Mahomes is a killer at his position and is the best QB in the league and he is just 25 years old! This guy can Make all the throws and can make unorthodox passes that makes him difficult to defend. He is also mobile, so he is dangerous on ALL LEVELS! Miami have their hands FULL!
Miami's CB's are top shelf and highly paid and this is where they can earn their pay because Mahomes have thrown just 2 int's this season and with the weapons he has at his disposal like WR Tyreek Hill the fastest player in the game! Also TE Travis Kelce the best TE in the game and RB LeVeon Bell who is getting more carries and so far has blended in well and you can see why they are so explosive.
Miami will not win in a shootout!
For Kansas City Chiefs
Kansas City is playing at a high level and as defending SB champs they have only improved their team and now on offense they have NO WEAKNESSES and on Defense They are Playing very well too. So they can beat you on so many levels and they can score at will and they cannot be underestimated on Defense and special teams.
Look for the Chiefs to do like others and test Miami's run defense and if successful use play action passing and take their shots down field. This game can get out of hand if Miami cannot control the clock and KC possess the weapons to blow this game away.
My Take:
The Kansas City Chiefs are where not only Miami wants to be but what just about every other team in the NFL wants to be. The Dolphins are a young team and not as advanced as the Chiefs talent wise and so it will take a complete team effort to upset the Chiefs.
Brian Flores said this about the Chiefs:
"They've got a great coach, great quarterback, great players defensively. They do a great job in the kicking game as well…It will be a great challenge for us. We've got a bunch of guys in our locker room who will compete and are tough. We've just got to do a good job of preparing."
There is no doubt that Miami is overmatched but it is not impossible to win this game, but it will take all three phases to play lights out ball to pull off an upset or the Chiefs to have a bad game.
Tua can also have a game like one he played in Arizona where he held his own vs Kyler Murry. That would be a big help.
Miami has surprised just about everybody as no one thought they would be 8-4 at this junction of the season and the way these players have bought into the culture and how well they are coached I will just keep hope alive and root for a win. A win would do wonders for this young team and going into the rest of the season they need all the confidence they can get as it is a rough task the rest of the way.
Predictions
Computer Pick: Miami 26, Kansas City 24
TDS Pick: Miami 31, Kansas City 27 (My Homer Pick)
GO MIAMI!!!!!!
Please help create better content in the future as well as giveaways such as upcoming TDS T-Shirts, Game Tickets, Giveaways, and cashback opportunities. For as little as .99 cents a month you can contribute to the growth of TDS and the podcast.
So click on the sponsor, there are 3 monthly price ranges to choose from .99 basic content /4 .99 with special content with more giveaways / 9.99 premium that will get you even more special content as well as many more giveaways others will not enjoy! (Click Here To Support!)
PLEASE GRADE THE ARTICLE AT THE TOP (1-5 STARS)!
(((((((COMPUTER GENERATED WEEKLY PREDICTIONS IN LATEST PODCAST))))))))
((((Please support my site by listening to my podcast I have sponsors!))))
Get This Weeks Prediction On TDS PODCAST!