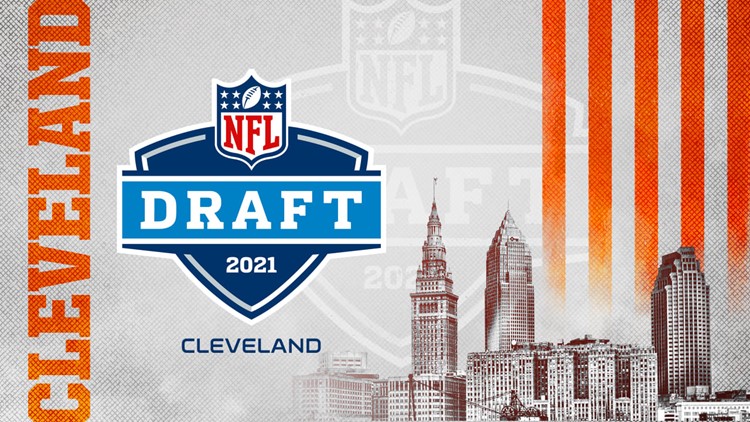 1. Trevor Lawrence, QB, Clemson (6-6, 220 pounds)
2. Justin Fields, QB, Ohio State (6-3, 233 pounds)
3. Trey Lance, QB, North Dakota State (6-3, 225 pounds)
4. Gregory Rousseau, EDGE, Miami (6-6, 260 pounds)
5. Ja'Marr Chase, WR, LSU (6-1, 200 pounds)
6. Penei Sewell, OT, Oregon (6-5, 325 pounds)
7. Shaun Wade, CB, Ohio State (6-1, 194 pounds)
8. Alex Leatherwood, OT, Alabama (6-6, 310 pounds)
9. Patrick Surtain II, CB, Alabama (6-2, 203 pounds)
10. Sam Cosmi, OT, Texas (6-7, 300 pounds)
11. Rondale Moore, WR, Purdue (5-9, 180 pounds)
12. Caleb Farley, CB, Virginia Tech (6-2, 207)
13. Marvin Wilson, DT, Florida State (6-5, 311 pounds)
14. Carlos Basham Jr., EDGE, Wake Forest (6-5, 275 pounds)
15. Micah Parsons, ILB, Penn State (6-3, 245 pounds)
16. Wyatt Davis, G, Ohio State (6-4, 315 pounds)
17. Creed Humphrey, G/C, Oklahoma (6-4, 312 pounds)
18. Walker Little, OT, Stanford (6-7, 309 pounds)
19. Dylan Moses, ILB, Alabama (6-3, 235 pounds)
20. Quincy Roche, EDGE, Miami (6-4, 235 pounds)
21. Travis Etienne, RB, Clemson (5-10, 210 pounds)
22. Rashod Bateman, WR, Minnesota (6-2, 210 pounds)
23. Paulson Adebo, CB, Stanford (6-1, 184 pounds)
24. Javon Holland, S, Oregon (6-1, 200 pounds)
25. Christian Barmore, DT, Alabama (6-3, 310 pounds)
26. Trey Smith, G, Tennessee (6-6, 325 pounds)
27. Hamsah Nasirildeen, S, Florida State (6-4, 215 pounds)
28. Chris Rumph II, EDGE, Duke (6-3, 225 pounds)
29. Jay Tufele, DT, USC (6-3, 305 pounds)
30. Jaylen Waddle, WR, Alabama (5-10, 182 pounds)
31. Jaylen Twyman, DT, Pittsburgh (6-2, 290 pounds)
32. DeVonta Smith, WR, Alabama (6-1, 175 pounds)
33. Tyson Campbell, CB, Georgia (6-2, 185 pounds)
34. Cade Mays, G, Tennessee (6-6, 318 pounds)
35. Tyler Shelvin, DT, LSU (6-3, 246 pounds)
36. Kyle Pitts, TE, Florida (6-6, 239 pounds)
37. Pat Freiermuth, TE, Penn State (6-5, 260 pounds)
38. Deonte Brown, G, Alabama (6-4, 338 pounds)
39. Aiden Hutchinson, EDGE, Michigan (6-6, 269 pounds)
40. Ar'Darius Washington, S, TCU (5-8, 179 pounds)
41. LaBryan Ray, DT, Alabama (6-5, 292 pounds)
42. Liam Eichenberg, OT, Notre Dame (6-6, 305 pounds)
43. Xavier Thomas, EDGE, Clemson (6-2, 65 pounds)
44. Jayson Oweh, EDGE, Penn State (6-5, 253 pounds)
45. Jackson Carman, OT, Clemson (6-5, 345 pounds)
46. Jamie Newman, QB, Georgia (6-4, 230 pounds)
47. Andre Cisco, S, Syracuse (6-0, 203 pounds)
48. Dillon Radunz, OT, North Dakota State (6-6, 301 pounds)
49. Chuba Hubbard, RB, Oklahoma State (6-1, 207 pounds)
50. Amon-Ra St. Brown, WR, USC (6-1, 195 pounds)
******Check Out My Podcast and get my weekly Predictions and Power Rankings******
Please help create better content in the future as well as giveaways such as upcoming TDS T-Shirts, Game Tickets, Giveaways and cash back opportunities. For as little as .99 cents a month you can contribute to the growth of TDS and it's podcast.
So click on sponsor, there are 3 monthly price ranges to choose from .99 basic content /4 .99 with special content with more giveaways / 9.99 premium that will get you even more special content as well as many more giveaways others will not enjoy! (Click Here To Support!)
PLEASE GRADE THE ARTICLE AT THE TOP (1-5 STARS)!
((((Please support my site by listening to my podcast I have sponsors!))))