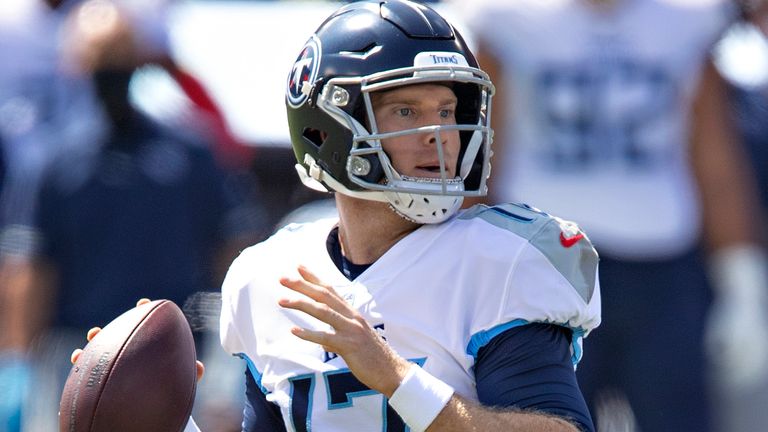 Have you noticed Ryan Tannehill? He is lighting it up and ever since he was traded to the Titans his stock has soared!
Ryan Tannehill is with out a doubt the unquestioned leader of the Tennessee Titans and even though he has one key piece around him that has contributed towards his success nobody can argue that he is just a game manager and that his play has help the Titans reach the playoffs last year and currently have the Titans one of the remaining undefeated teams in the NFL.
I am sure there are some sellers remorse when it comes to Ryan Tannehill among his loyal supporters when he was with Miami, I too was a loyal supporter up until his last year or so.
So did the Dolphins give up on Ryan too early? Or did they do the right thing moving on? I am sure the answer depends on if you were a Tannehill hater or lover as he truly was a polarizing player for Miami. I never was a Tannehill hater and I supported him for about 6 of the 7 seasons he was in Miami and so I feel I can give an unbiased view on this question.
Why it was truly time to move on!
To answer that question we must first look at Ryan Tannehill's current situation. Tannehill is on a team that was truly a GOOD QB away from being a playoff contender and as soon as they moved on from Marcus Mariota and made Ryan their starting QB, Tannehill proved what we Tannehill supporters knew that he was a good QB and better than what he showed in Miami.
Why is that? It is because it was more about what the Dolphins at the time failed to provide Ryan Tannehill with that the Titans already had in place. Miami was that team that was fooling themselves with the idea that they were a player or two away from being a contender and that was why they kept spending a boat load of money trying to bring in Free Agents over the years that Tannehill was our QB.
I always knew that if Miami had built a roster to complement Ryan Tannehill (who needs complementary players to succeed) like a solid running game and O-Line something that our Dolphins are still in pursuit of, that Tannehill would have had the success in Miami he currently is enjoying with the Titans.
With that being said it was truly time to move on because the Dolphins had made the decision to rebuild and Ryan is in the prime of his career and to have a 31 year old QB (at that time) on the roster while we were planning to blow up the roster was not in either parties best interest.
So it was the right move to move on from Tannehill and you Tannehill lovers should be happy for him and wish him well as our Dolphins are in year two of their rebuild and to be honest I prefer Ryan Fitzpatrick over Ryan Tannehill as Fitzmagic is exactly the right QB for the job to mentor Tua Tagolviola who will hopefully become our franchise QB who won't need complementary players to succeed but that too would be nice to have in place too.
So instead of having "Buyers Remorse" why not be happy for Tannehill and our teams process that seems to be going very well.
******Check Out My Podcast and get my weekly Predictions and Power Rankings******
Please help create better content in the future as well as giveaways such as upcoming TDS T-Shirts, Game Tickets, Giveaways and cash back opportunities. For as little as .99 cents a month you can contribute to the growth of TDS and it's podcast.
So click on sponsor, there are 3 monthly price ranges to choose from .99 basic content /4 .99 with special content with more giveaways / 9.99 premium that will get you even more special content as well as many more giveaways others will not enjoy! (Click Here To Support!)
PLEASE GRADE THE ARTICLE AT THE TOP (1-5 STARS)!
((((You can support this site just by listening to my podcast I have sponsors!))))