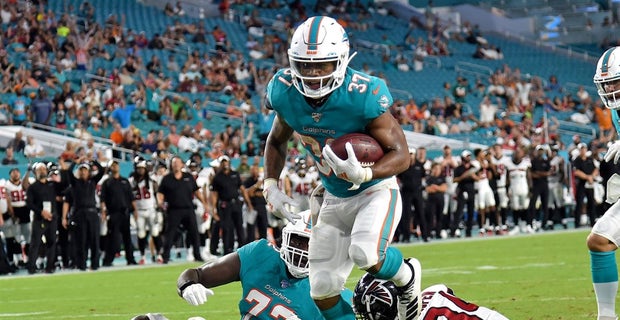 I was very disappointed when Miami failed to draft one of the young RB's in the 2019 NFL Draft as they had a shot to take any one of the top RB's in this years draft class. With names such as Clyde Edwards-Helaire, Jonathan Taylor, D'Andre Swift, J.K. Dobbins, Cam Akers, Zack Moss, Ke'Shawn Vaughn the Dolphins had a chance to add a RB to a position of need and a young player to grow with this 2020 draft class.
I was somewhat appeased when Miami traded for Matt Breida and also signed Jordan Howard and I thought that they would add to having a much better RB room than last year where Ryan Fitzpatrick was our leading rusher.
It has come as a pleasant surprise to see 2nd year RB Miles Gaskins who we drafted in the 7th round in 2019 to take the early lead as Miami primary runner, he has 38 attempts for 152 yards and a 4.0 YPC average in his first 3 games and has looked very good running the ball.
Gaskins also can catch the ball well and I expect after the offense continues to evolve this year that his role as a versatile runner will increase and as our young OL continues to develop and improve in run blocking Gaskins will be the benefactor.
I still would love to see more involvement with both Jordan Howard and Matt Breida but it has brought a measure of comfort knowing that Miles Gaskins has taken his chances and made the best of them.
I am not alone in taking notice of this surprise RB who is making the best of his opportunities much to the delight of us Dol-Fans!
******Check Out My Podcast and get my weekly Predictions and Power Rankings******
Please help create better content in the future as well as giveaways such as upcoming TDS T-Shirts, Game Tickets, Giveaways and cash back opportunities. For as little as .99 cents a month you can contribute to the growth of TDS and it's podcast.
So click on sponsor, there are 3 monthly price ranges to choose from .99 basic content /4 .99 with special content with more giveaways / 9.99 premium that will get you even more special content as well as many more giveaways others will not enjoy! (Click Here To Support!)
PLEASE GRADE THE ARTICLE AT THE TOP (1-5 STARS)!
((((Please support my site by listening to my podcast I have sponsors!))))
Get your Joke of the day and Dolphin history/Trivia on TDS Podcast below!