From my computer program to just about anybody (but the most ardent Dolphins fan) this game was to suppose be be won by Jacksonville and when you consider Miami lost their first two games and how Jacksonville played pretty well and had a 1-1 record and they were scoring on average 29 points per game.
The fact that it also was a home game for Jacksonville also was a factor in how people made their predictions, all of the host on the NFL network predicted a Jacksonville win….

Miami Dolphins@MiamiDolphins Oops (to the NFL Network host)
🙂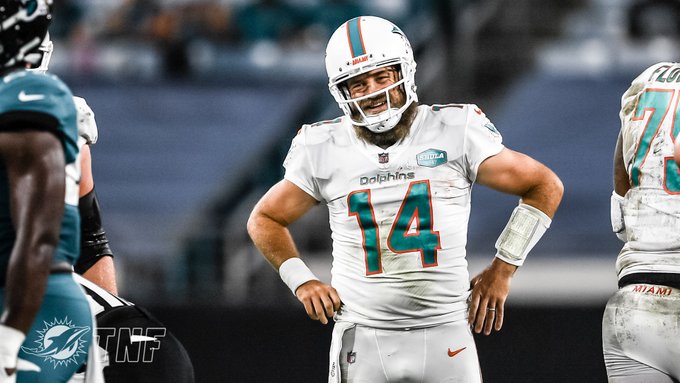 The Dolphins response to the haters on NFL Network
Well it was not even close as the Dolphins put the SMACKDOWN on the Jaguars and shut them down and blew them out!
Ryan Fitpatrick was en fuego as he completed his first 12 passes and he has never lost to Jacksonville
From (ESPN):
"It doesn't matter what jersey Ryan Fitzpatrick wears when he plays the Jacksonville Jaguars. Take your pick of a half-dozen different team uniforms. All of them have led to one result: victory.
Fitzpatrick on Thursday night became the first NFL player since at least 1950 to record at least one victory for six different teams against a single opponent, according to the Elias Sports Bureau. It was an accomplishment only Fitzpatrick could achieve. After leading the visiting Miami Dolphins to a 31-13 victory at TIAA Bank Field, the well-traveled quarterback has now defeated the Jaguars as a member of the Dolphins, Cincinnati Bengals, Buffalo Bills, Tennessee Titans, Houston Texans and New York Jets."
Next Gen Stats@NextGenStats·Sep 24, 2020Ryan Fitzpatrick completed 90% of his passes tonight in the #Dolphins win, +21.6% over expected (by CPOE), his highest in a game over the last five seasons. ➤ 18/20, 160 yards, 2 TD (+21.6% CPOE)
The Magic of Fitzpatrick was on display Thursday night and his infectious personality was on full display and you can see the effect it has on his fellow teammates and even though we have the future sitting and learning I can think of no better situation Tua Tagaloviola could be in as he continues to heal and get stronger as well as have an up close look at how to play the position as a PRO and that is why the Dolphins are making the right moves at the QB position.
Besides Ryan's great play the Dolphins Defense also had their best showing of the 2020 season as they were able to apply pressure on Jags QB Gardner Minshew who is trying to prove he is the answer at QB for his team and after last nights game you can say he had a setback as Miami's Defense was all over him throughout the game. There are still some issues the Defense need to clean up and Tackling would be atop my list of things they need to improve on moving (Do They Know How To Rap Up?)
Much to me surprise RB Miles Gaskins is proving to be the best option at RB as he runs hard and catches the ball well and has improved in his blocking and they went to him early and often in the game and he had success in running the ball.
The Offensive Line with 4 new starters (two being Rookies) have been impressive all three games and despite needing to improve in run blocking they have provided protection for Fitzpatrick and held up under pressure!
This 31-13 win can be the catalyst to this team getting on track and even with the two losses on their record I felt Miami still held their own against two top teams in the NFL who happen to be in our division.
Year two of the rebuild is well on the way and so far this team looks just like I had told you in my 2020 projection where I wrote:
" I expect the Dolphins to have a similar start to the 2020 as they had in 2019, only just not so bad in the margin of defeat in the early games. According to reports, the AFC East has a very difficult schedule, in fact, Miami has what is considered the 3rd toughest schedule in the NFL."
I also concluded by saying:
"I expect at seasons end for this team to have our fan base just as excited as we have been after a 5-11 season under Brian Flores' first season. With more talent and a very stable locker room and with his personality that seems to be one that earns the respect of his players but at the same time maintain that disciplinarian authority figure I see this team eventually turning that corner.
It could happen this year but I am looking to 2021 as the season where Miami will be a serious contender for the division and the playoffs."
It feels good to get a win and the players who have been working hard gets some extra time to sit back and heal before they host the next home game against one of the best teams in the NFL and their own "Magical QB" as Seattle will invade Hard Rock Stadium on Sunday October 4th at 1 PM EST
Go Miami!!!!
******Check Out My Podcast and get my weekly Predictions and Power Rankings******
Please help create better content in the future as well as giveaways such as upcoming TDS T-Shirts, Game Tickets, Giveaways and cash back opportunities. For as little as .99 cents a month you can contribute to the growth of TDS and it's podcast.
So click on sponsor, there are 3 monthly price ranges to choose from .99 basic content /4 .99 with special content with more giveaways / 9.99 premium that will get you even more special content as well as many more giveaways others will not enjoy! (Click Here To Support!)
PLEASE GRADE THE ARTICLE AT THE TOP (1-5 STARS)!
((((Please support my site by listening to my podcast I have sponsors!))))
Get your Joke of the day and Dolphin history/Trivia on TDS Podcast below!