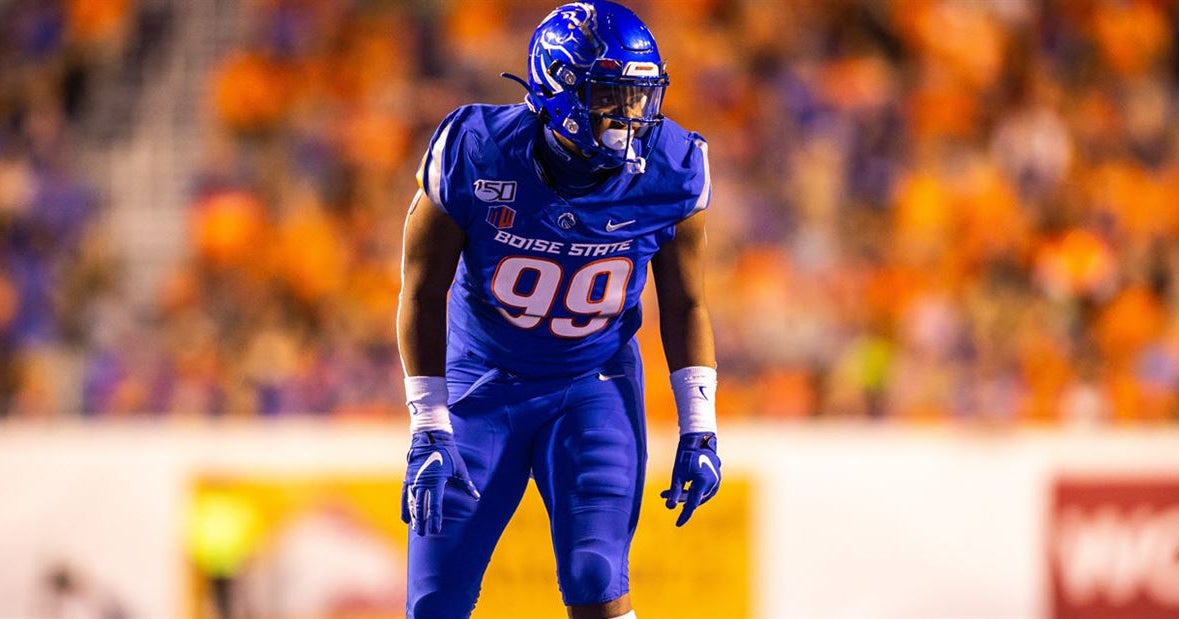 Round 5· Pick 164 Curtis Weaver EDGE Boise State (6′ 2″, 265 pounds)
The Broncos pulled Weaver out of the Long Beach area and have been happy with his play since he arrived on campus. After redshirting his first season, Weaver was named a 2017 Freshman All-American after ranking sixth in the FBS with 11 sacks (33 total tackles, 13 for loss, one interception). He earned his second straight first-team All-Mountain West honor in 2018 after leading Boise State with 15 tackles for loss and 9.5 sacks among his 43 total tackles in 13 starts. Word spread about his talent during 2019, and the accolades piled up: second-team Associated Press All-American, first-team All-Mountain West, MWC Defensive Player of the Year, Ted Hendricks Award finalist. Weaver led Boise State and finished among the national leaders with 18.5 tackles for loss and 13.5 sacks (52 total tackles, one interception, three pass breakups).
Overview
Stand-up end whose production as a pass rusher must be balanced out by his below-average ability and athleticism in stopping the run. Weaver is a naturally instinctive counter-rusher who uses synchronized hands/feet to attack both inside and outside edges as a rusher, but his lack of explosiveness and athletic traits could dull his rush production against NFL offensive tackles. He plays with football intelligence, but his level of NFL success could be determined by whether his skill can overcome below-average explosiveness.
Strengths
Excellent sack and tackle-for-loss production over three years
Quick lateral reaction to cross-face blocker
Fairly fluid in his movements with functional agility
Plays with hands and feet working in unison
Slick and seamless at working around blocks
Plays past blockers with his eyes
Accelerates into rush arc, creating rush momentum
Uses swipe-and-slide technique to trim the edge
Instinctive with his rush counters
Displays adequate football IQ
Can be a heavy striker as tackler
Weaknesses
Below-average body type with soft frame
Lacks functional pursuit speed as edge defender
Below-average athlete to drop and cover in space
Has issues with balance and body control at times
Ineffective punching and separating to set strong edge
Allows himself to be sealed by play-side run blocks
Too much head-ducking when taking on blocks
Lacks hustle from back side of plays
TDS Take:
Another heaping helpings of "Meat & Potatoes" as back to back picks Miami add some help along the defensive line, this Edge rusher was extremely successful in his college career and will be tossed into the mix along with other players recently added that will breed competition and force Curtis to achieve a high level on the next level.
Welcome To Miami  Curtis Weaver!
Fins Up!