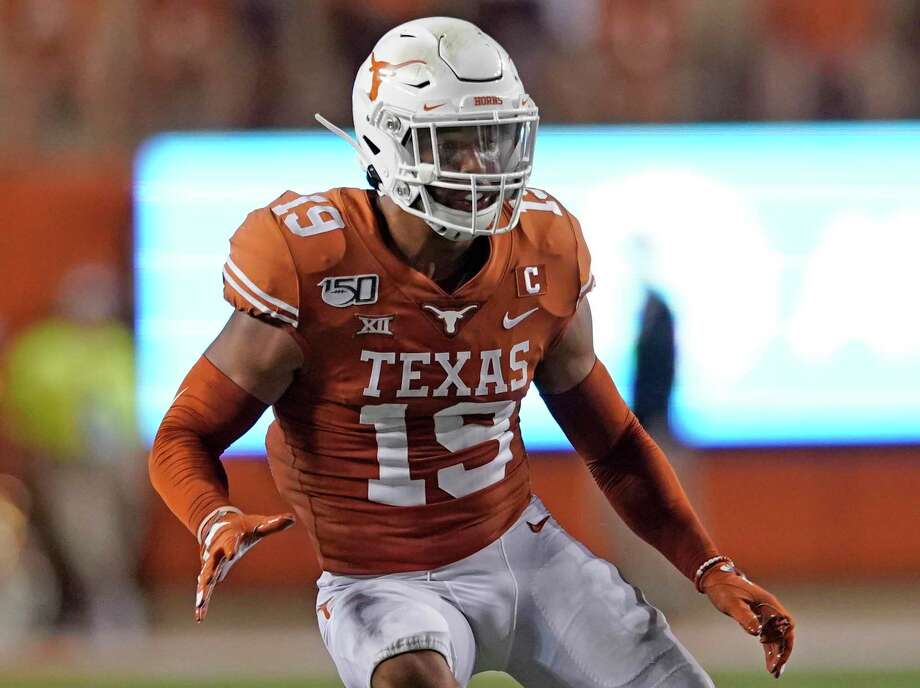 Round 3 – #7 Brandon Jones S Texas (5′ 11″, 198 pounds)
Jones submitted a request for feedback from the NFL Draft Advisory Committee last year and said he was happy with the result. He decided to return to Austin for his senior year, though, because of the team's potential as a championship contender. Jones picked up second-team All-Big 12 notice in 2019 as a 12-game starter (86 tackles, 4.5 for loss, one sack, two interceptions, four pass breakups). A shoulder injury limited him to minimal play in the team's bowl game. He had garnered honorable mention All-Big 12 honors in 2018 (70 tackles, 5.5 for loss, two interceptions in 10 starts) despite missing time with head and ankle injuries. He had started 12 games the previous year, recording 61 tackles, four for loss, and breaking up two passes. The former top-50 national prospect from Nacogdoches, Texas, started one game as a true freshman in 2016 (16 tackles, one safety, two blocked kicks in 12 games). Jones' father, Bert, played football at Stephen F. Austin.
Overview
He's got a thumper's heart but doesn't have the frame to carry the pop necessary to handle that role. While Jones played boundary, field, and nickel safety position at Texas, he'll likely be pegged as a two-deep or single-high free safety due to man coverage limitations but above-average speed. He plays with good urgency and has soft hands, but just average instincts, which limited his ball production. He could get pushed up a round if he's a big tester. He has third-safety potential and offers early help on special teams.
Played all three safety positions for the defense
Attacking demeanor and wants to be in the action
Will play with pain
Motor to pursue ball-carriers from across the field
Displays agility and reactive athleticism as open-field tackler
Alters pursuit angles when needed
Speed/range to play over the top
Runs with deep cover targets and looks for the football
Can step into early role on kick/punt cover teams
Weaknesses
Can be exploited in man coverage
Needs to play with better route anticipation
Average response time and lateral burst at break points
Very few pass breakups during his career
Instincts are just average
Could have issues handling big targets on jump balls
Doesn't have size to stop runs in their tracks
Can be a little slow to read and react to run from single-high
TDS Take
Once again a common theme by many is Miami reached for Jones at pick #70 of the  3rd round but it is quite apparent the Dolphins board in not like others boards they are targeting specific players and not where some others rank them.
Jones is another position of need as Safety was high on my list of priorities that Miami needed to address and they did exactly that at pick #70.
Welcome To Miami Brandon Jonesn Ball out!
Fins Up!