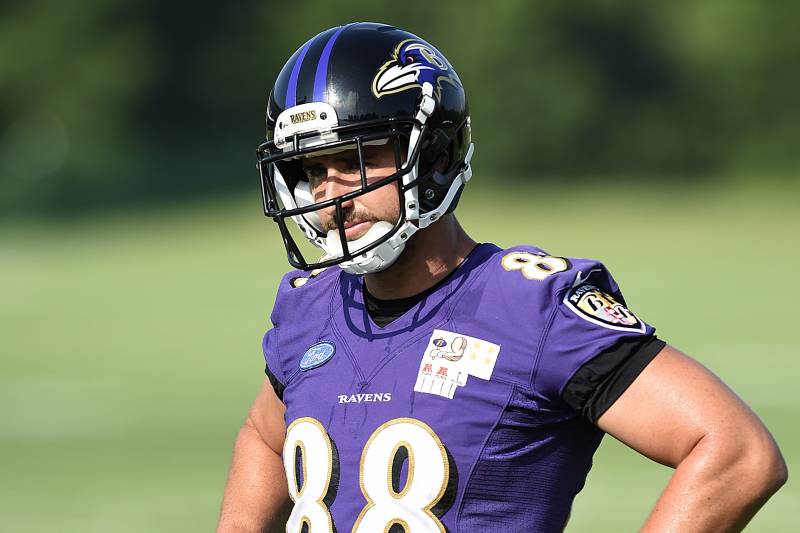 TE Dennis Pitta was a ascending player for the Baltimore Ravens, drafted in the 4th round in 2010 number 114th overall, after a very unspectacular rookie season, Dennis improved greatly in the 2011 as he gradually played more consistent and by seasons end he was making a name for himself. Pitta finished the 2011 season with 40 catches, 405 yards and three touchdowns. The Raven made the playoffs in 2011 and Pitta played a steady role in the AFC Championship Game against the New England Patriots catching five passes for 41 yards, including the Ravens' first touchdown of the game, but the Patriots prevailed and moved on to lose in the SB to the Giants for a second time in 4 years.
On July 27, 2013, Pitta suffered a dislocated and fractured hip during training camp and underwent surgery the same night. Pitta was not immediately placed on injured reserve and examinations of the hip revealed no ligament or cartilage damage, but he was still expected to miss the entire season.
In Week 14 of the 2013 season, Pitta returned to on field action for first time since Super Bowl XLVII. He caught 6 passes for 48 yards and a touchdown in a 29-26 win against the Minnesota Vikings. Many people stated that he seemed to pick up exactly where he had left off.
2014
On February 28, 2014, the Baltimore Ravens and Pitta agreed to a five-year $32 million contract.[20] It was believed that Pitta would have a breakout 2014 campaign.
During a game against the Cleveland Browns on September 21, 2014, Pitta left the game with a hip injury. It was revealed that his right hip was dislocated again. He underwent surgery on the same hip the next day and it prematurely ended his 2014 season.[21] On September 1, 2015 Pitta was placed on the PUP list.[22]
2015
On November 11, 2015 The Ravens reported that doctors informed Pitta that it was not safe for him to continue his career. Pitta was placed on season ending injured reserve later that day, but he stated that he had not yet elected to retire from the NFL.[23]
2016
In 2016, Pitta announced that he was going to return to football whenever he was cleared to play. He resumed full practice on September 7, 2016 and played in the season opening game on September 11, 2016 in Baltimore where he had 3 receptions for 39 yards.[24] In Week 2 against the Cleveland Browns, Pitta had a game-high nine catches for 102 yards — the second 100-yard game of his career. On Pitta's return, Ravens quarterback Joe Flacco said, "If he was coming back, I knew he would be productive. Last year, when he came back for a couple of weeks of practice and they decided to not have him play, he looked good. He looked like himself. I think he's going to get more and more comfortable as the year goes on. We just have to keep him healthy."  On December 4 against the Miami Dolphins, Pitta scored in a game for the first time since Week 14 of the 2013 season. Pitta finished the game with 9 catches for 90 yards and two touchdown receptions in the 38-6 victory. Pitta had statistically his best season, recording a career-high 86 receptions, most in the league by a tight end, and a career-high 729 yards, although he only caught two touchdown passes. Pitta also recorded his first career fumble during the game against Miami.
2017
On June 2, 2017, Pitta suffered another hip injury during organized team activities on a non-contact play. It was later determine that he dislocated his hip for a third time. On June 7, Pitta was released by the Ravens.
Commentary:
As much as I feel for QB Tua Tagovailoa I know from first hand experience what a dislocation feels like and the reality that it could pop out of place again in normal circumstances just imagine playing on the highest level that Tua Tagovailoa will have played and how his injuries on the college level were concerning enough and to think about him taking hits week in and week out on the NFL level.
It's to great a risk to even think about drafting Tua and should Miami take that risk how long before the inevitable happen?
Miami cannot afford that risk!
(Much Thanks to Wikipedia on the majority of the information on Dennis Pitta)
*Please rate my article at the top by clicking on the stars, you have options 1 -5 with five being you really love the article and one being that I need to improve, your opinion matters thank you for taking time out of your busy life to read my articles I appreciate it…