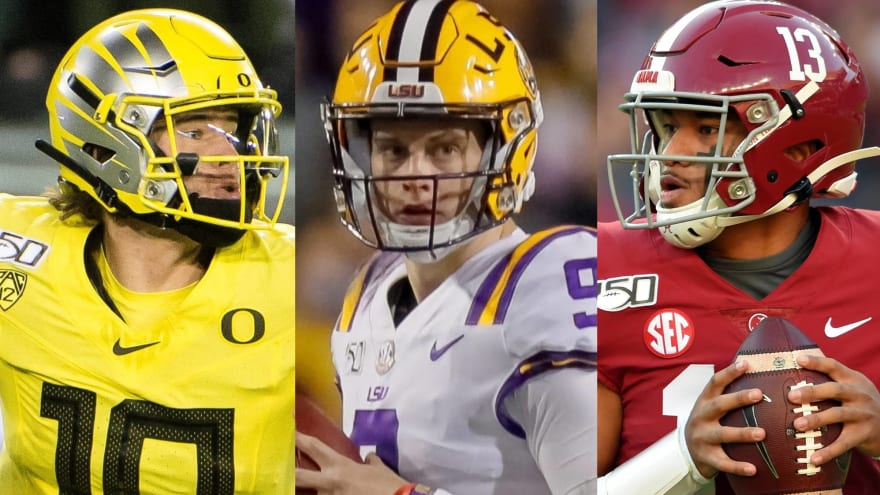 What if Josh Rosen was coming out in the draft this year, where would he will be ranked among the top QB's in the 2020 NFL draft?
The consensus top 4 QB in the 2020 NFL draft are:
Some might have them listed in a different order but for the most part the 4 QB's listed above are considered the top QB's in the upcoming 2020 NFL Draft.
In 2018 the top 4 QB's were:
It really is hard to try and compare things as we have some history on the 2018 QB's so for the most part the unknowns are no longer a concern even though Josh Rosen still have some unknowns due to how he has been handled so far.
So for these QB prospect in 2020 it's that very unknown that makes some have more confidence in them than a person like Rosen who has yet to live up to expectations but in all fairness it is not all his fault.
Next year around this time we will have some idea as to what these 2020 QB's will look like as they will have completed their first season and the second guessing will be in full force for some of these prospects, as "Mr Hindsight" will rule as king again.
So for now the 2020 QB's are the desire of many teams and fans as some feel that there will be two franchise QB's that will come out of this class. Joe Burrow  & Tua Tagovailoa, only time will tell.
So where would Josh Rosen fit among the 2020 QB's would he be ranked 1st, 2nd, 3rd or 4th?
Given the high opinions of many the most logical place to put Rosen is 3rd at best and 4th at worse.
Here was what was said about Josh Rosen in 2018 before the draft.
This is what two recognized Draft experts had to say about Josh Rosen in 2018.
Kiper's draft ranking: No. 2 QB and No. 5 overall prospect. From Kiper's Mock Draft 1.0: "Rosen is the top pure passer in this class. He looked better than Darnold when UCLA and USC played late in the season."
McShay's draft ranking: No. 1 QB and No. 1 overall prospect. From McShay's Top 32: "Rosen is far superior [than Darnold] going through his progressions and has a pretty deep ball. He's a better QB right now, but that doesn't mean he will be down the line."
WalterFootball (Who Ranked Rosen 4th) had this to say about Josh Rosen
Of the top quarterback prospects for the 2018 NFL Draft, Rosen has the best mechanics and is the most natural pocket passer. He throws a tremendous ball and can really spin it. Rosen's tight spiral helps him to get his passes through small windows and beat good coverage. He has serious arm talent along with field vision and pocket presence. Rosen also worked under center, which has been rare to see with college quarterbacks in recent years.
In 2017, Rosen completed 63 percent of his passes for 3,717 yards with 26 touchdowns and 10 interceptions. Rosen had two concussions during his final season at UCLA. He led a legendary one of the greatest comeback wins in college football history in Week 1 versus Texas A&M. UCLA was down 44-10 in the third quarter before Rosen led the Bruins back to a 45-44 victory over Texas A&M. 
I know this is an unscientific and almost impossible thing to do but ask yourself at the very least how much better are any of these 2020 prospects than Josh Rosen?
I just find it hard to believe that many have not given Josh Rosen a fair chance especially many Dolphins fans who have spent 7 years giving Ryan Tannehill some support and some even now would take him back.
On the other hand after just 1 year in Miami on one of the worst teams in Dolphin history some have given up on Josh Rosen.
Even Mel "The Fraud" Keiper who just two years ago had Josh Rosen as his 2nd ranked QB in the draft and his side kick Todd McShay had Rosen as his top QB in the 2018 draft are projecting one of these top QB's in 2020 as the Dolphins top pick in the upcoming draft.
With all the talent Josh Rosen posses and given a fair chance and more development one can't help but think the Dolphins already have their young QB prospect for 2020. That is why I refuse to believe the Dolphins are serious about taking a QB early in the 2020 NFL draft.
The good thing is we have less than 3 weeks (16 days) as of this article before we find out what the Dolphins will do.
Can't wait!
#FINS UP!
Please rate my article at the top by clicking on the stars, you have options 1 -5 with five being you really love the article and one being that I need to improve, your opinion matters thank you for taking time out of your busy life to read my articles I appreciate it.