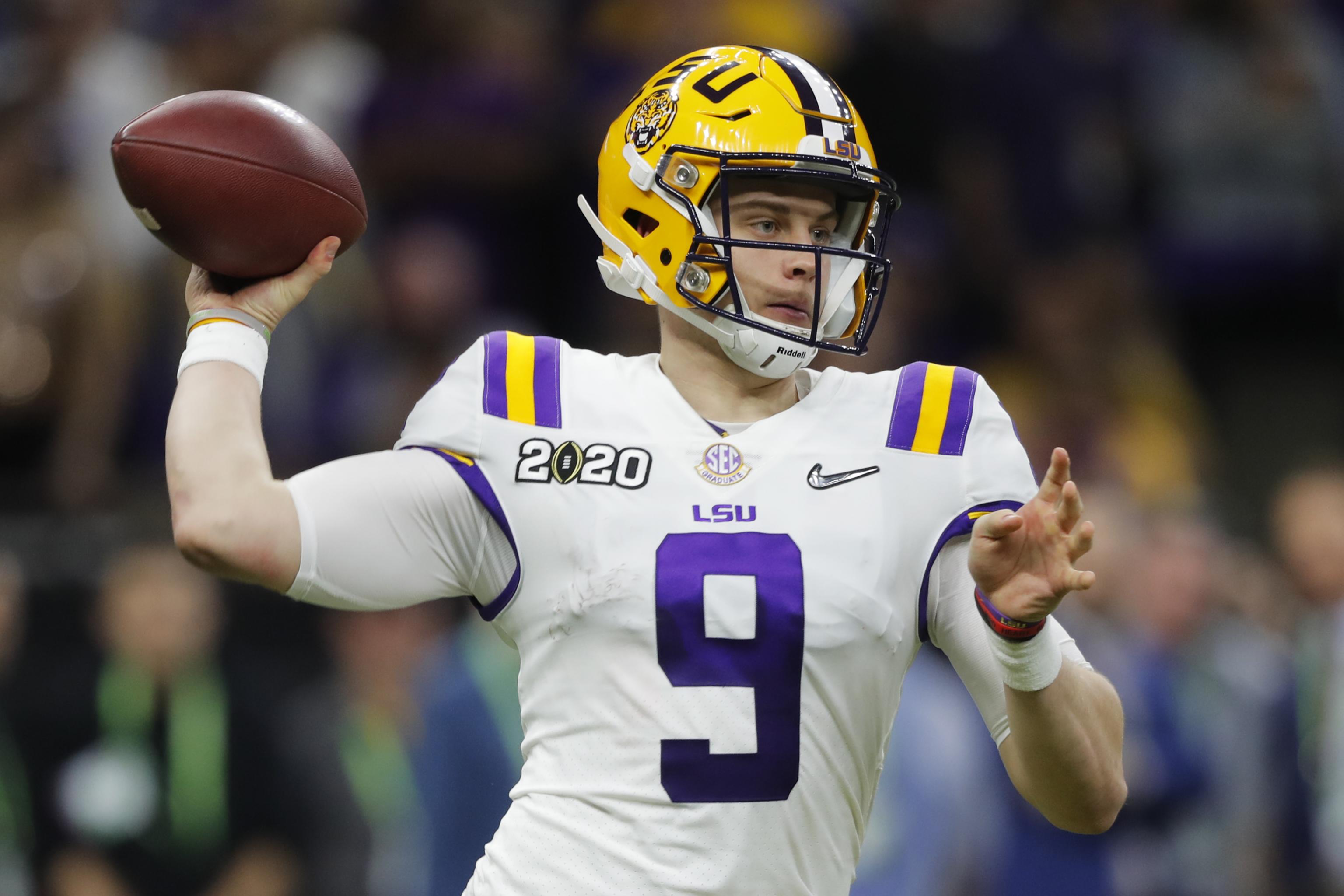 Thou Shalt Not Covet! Is one of the ten commandments…
But that is not stopping some envious reporters and fans in once again thinking and hoping that somehow the Bengals (who are also in the hunt for a franchise QB) are stupid enough to even entertain the idea of trading away their rights to the new OVERRATED young QB coming out of the 2020 NFL draft.
There are no greater overrated players and bust than first round QB's coming from college and entering the NFL draft. Teams waste/spend countless of hours, money and resources trying to get that position right!
No player takes a huge leap up the draft board like QB's!
A List of  some of the QB Bust Over The years (No Specific Order)
Brady Quinn
Kordell Stewart
Charlie Frye
Quincy Carter
John Beck
Jason Campbell
Daunte Culpepper
Matt Leinart
Rex Grossman
Byron Leftwich
Tony Eason
Kyle Boller
Jeff George
David Carr
Ryan Leaf
JaMarcus Russell
Art Schlichter
Todd Marinovich
Heath Shuler
Rick Mirer
Andre Ware
Akili Smith
Cade McNown
Todd Blackledge
David Klingler
Tim Couch
Jim Druckenmiller
Joey Harrington
That's just a list of a few names that did not live up to expectations.
Now I'm in no way saying that Joe Burrow will be a bust because we won't know for at least 2-3 years. Even if Joe Burrow becomes the next best thing to the G.O.A.T he will not be the first or last QB to be a success in the NFL.
Instead of coveting the Bengals number 1 slot in the upcoming draft why not focus on what the Dolphins have in this years NFL draft. That is the ability to add up to 14 new players to a roster depleted of talent last season.
Instead of thinking that Cincinnati will somehow be stupid enough to trade out of their spot and some of you willing to give up the farm for an unproven prospect coming out of college, why not follow my example and wish the Dolphins would focus on staying with the rebuild and develop the young QB that they have on the roster that mirrors Burrow.
Josh Rosen and Joe Burrow are just about twins and if it were not for the fact that Rosen just might have been the unluckiest player to ever come into the NFL in recent history, having landed on two teams ill-prepared to care for a young QB in his first two NFL seasons, some of you might would have a better perspective on Josh Rosen.
I am on record in saying Miami needs to give Josh Rosen more time and should focus on TEAM BUILDING rather than the QB position in 2020 and allow the current QB room in Miami to play out.
We have a young 22/3 year old kid highly rated in 2018 as a top QB prospect entering the NFL
Here is his scouting report STRENGTHS 
Strengths:
Lethal pocket passer
Throws a great spiral
Rare arm talent
Can really spin it; passes never wobble
Instincts
Can be an accurate passer with good ball placement
Field vision
Threads passes into tight windows
Throws receivers open
Can beat good coverage with his arm and accuracy
Developed field vision
Instincts
Throws with good timing
Stands tall in the pocket
Throws knowing he is going get hit
Good footwork
Has experience working under center
Throws with good timing
Good ball placement and timing to lead receivers for yards after the catch
Intelligent, advanced football IQ
Strong play recall
Josh Rosen's personality is somewhat of an enigma as some have had issues dealing with him but he has handled himself very admirably from the debacle in Arizona to his being poorly handled in Miami so far. I personally see a poor mans Aaron Rodgers in Rosen just waiting to be developed!
But for so many to give up on Rosen for the new hot thing Joe Burow is just ridiculous, I often use the saying "A Bird In The Hand Is Worth Two In The Bush" because we have a young QB that just needs two things time to develop and stability!
GM Chris Grier and the Dolphins OWE him that because they should have never traded for him if they are willing to be as shallow and fickle as the media and fans can be.
So for those of you on board with those coveting the Bengals position in the Draft and are willing to give away very valuable draft picks (OUR 3 FIRST ROUND PICKS)  I say get a grip and come to your senses, Joe Burrow is not worth three first round picks and the Bengals are not trading away their spot!
It takes more than a QB to win in the NFL and the Dolphins have so many needs to address they are better suited to just focus on team building and PLAYER DEVELOPMENT to build a contending team for the future.
Please rate my article at the top by clicking on the stars, you have options 1 -5 with five being you really love the article and one being that I need to improve, your opinion matters thank you for taking time out of your busy life to read my articles I appreciate it.