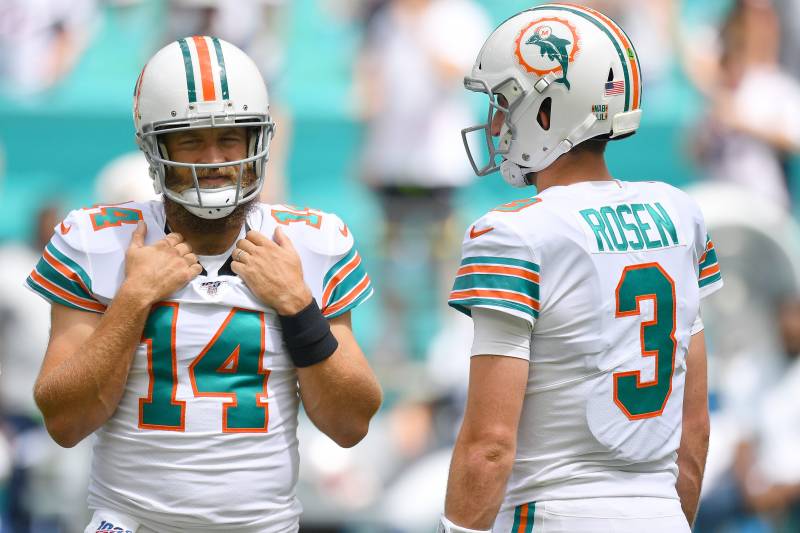 While far to many Dolphins fans are obsessed with the QB situation in Miami I must live in a alternate universe because from my viewpoint Miami is in great shape at the QB position and do not need to waste a draft pick or money in free agency to address the QB position in 2020 because they have far greater needs and quite frankly our QB situation is actually in good shape.
What is it teams are searching for from the QB position? A competent starter and a young backup who you can groom to take over the starting position in the future. If this 2020 season is proving anything it is that the entire NFL QB situation is in flux. Lets examine the QB's in the league and see where our Dolphins match up.
So far in the NFL I can say there are 9 teams that have their starting QB situation secured for the foreseeable future barring injuries.
Patrick Mahomes Kansas City Chiefs
Lamar Jackson Baltimore Ravens
Deshaun Watson Houston Texans
Russell Wilson Seattle Seahawks
Aaron Rodgers Green Bay Packers
Matthew Stafford  Detroit Lions
Jared Goff Los Angeles Rams
Kyler Murray Arizona Cardinals
Josh Allen Buffalo Bills
This next list of QB's I will call coming to The End Of Their Careers 
Tom Brady New England Patriots (will he remain in NE?)
Drew Brees New Orleans Saints
Ben Roethlisberger Pittsburgh Steelers
Matt Ryan Atlanta Falcons
Joe Flacco Denver Broncos
Andy Dalton Cincinnati Bengals
This Next list I will call Unproven or Not Yet Sold On 
Carson Wentz Philadelphia Eagles
Kirk Cousins Minnesota Vikings
Jimmy Garoppolo San Francisco 49ers
Dak Prescott Dallas Cowboys
Jameis Winston Tampa Bay Buccaneers
Cam Newton Carolina Panthers
Derek Carr Las Vegas Raiders
Baker Mayfield Cleveland Browns
Jacoby Brissett Indianapolis Colts
Ryan Tannehill  Tennessee Titans
Daniel Jones New York Giants
Sam Darnold  New York Jets
Mitch Trubisky Chicago Bears
Dwayne Haskin Washington Redskins
Gardner Minshew II Jacksonville Jaguars
Tyrod Taylor?? Los Angeles Chargers
Where Does the Miami Dolphins fit in this category?
Ryan Fitzpatrick would fit with the coming to The End Of Their Careers group
Josh Rosen would fit with the Unproven or Not Yet Sold On group
What Makes Miami's situation ideal even before the draft is they have a veteran QB that can win games and also push our young backup QB Josh Rosen either up or out as the future QB for the Dolphins,  I find that situation better than the other 22 teams that are still uncertain about their future, as the QB's they have is either close to retirement with questions about their backups or they have a QB that have not totally convinced them that they are the future.
And for the 9 QB's listed as locks as starters for their respective teams what happens if they go down to injury? Are the backups they have solid?
This is another one of my arguments for the Dolphins to forget about drafting a QB in 2020 and continue to see how things play out between Josh Rosen and Ryan Fitzpatrick while they concentrate in 2020 on upgrading the rest of the roster and developing Josh Rosen while at the same time address the QB position in the 2021 NFL draft.
This is how your Dolphin Seer Sees it and would play it!
Fins Up!