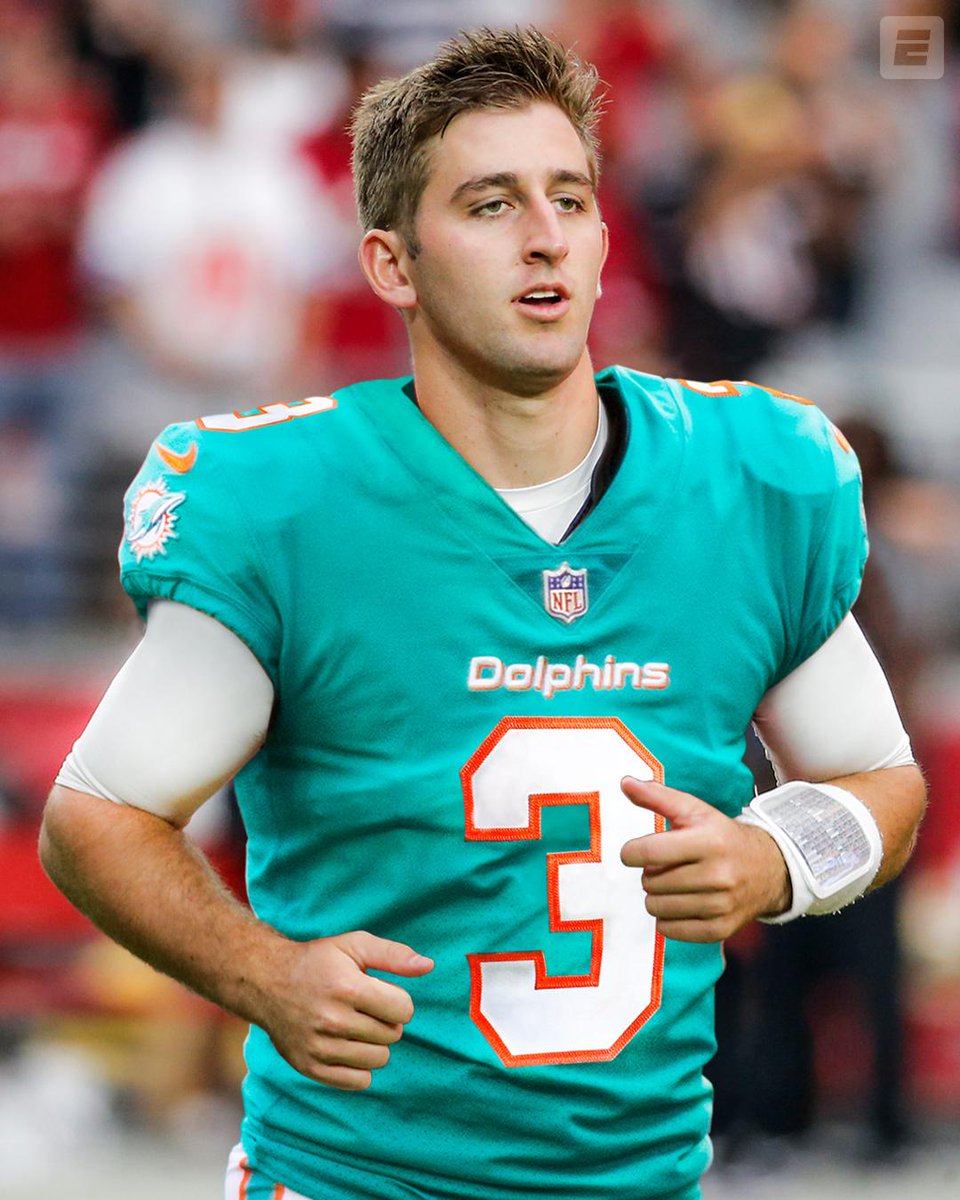 Turn the heat up and throw him in the Fire! That is what quite a few unrealistic fans and bloggers as well as media personalities are preaching for Josh Rosen. It boggles my mind as to their reasoning why…
I think it's because of that stupid article written by a Miami Herald reporter talking about tanking for Tua or some other top quarterback in the 2020 draft.
Never mind that Chris Grier pulled off one of the greatest steals in NFL draft history by plucking Josh Rosen from the Arizona Cardinals in their desperate attempt to move Josh Rosen after drafting Kyler Murray as they mishandled the whole situation.
So let me reiterate why there is no need to rush Josh Rosen despite some people out here panicking, mind you in early June… really???
The Miami Dolphins signed Ryan Fitzpatrick for 11 million dollars with the intent of him being on the roster and most likely competing against whatever rookie they intended to draft, so far in the early OTAs Ryan Fitzpatrick (rightfully so) has outshine our Yong 22 year old QB, one we all hope he develops into our next franchise Quarterback.
The Dolphins have the best case scenario when it comes to being patient with Josh Rosen.
First they are in year one of a rebuild so expectations are extremely low by many.
Second the Dolphins have Wiley veteran QB Ryan Fitzpatrick  who has over 14 years in the NFL playing for various teams and many offensive systems who is really a good QB that maybe under this coaching staff will have consistent play unlike he has so far in the past.  (That is why I think many are calling for Josh Rosen to play because they fear that Ryan Fitzpatrick will win too many games)  
Third for what the Dolphins are paying Josh Rosen over the next 4 years (2 mill a season) his cost is not so burdensome that they need to play him now.
That is why I say lets slow down, let the kid get COMPLETELY comfortable with the system, one that is said to be complicated and puts a lot on the QB, less I remind you all again JOSH is just 22 years old!
Look at one of the best QB's in the NFL today and how he was developed? Aaron Rodgers had a really bad draft day as he slid so far down the board and he had that camera in his face for almost 5 hours of waiting.  Nobody thought he would slide that far and sliding down as far as he did to be drafted by the Packers who still had Brett Favre entrenched as the PRO BOWL starter had to be the most disappointing draft days of all time for a QB prospect.
Drafted in 2005 Aaron Rodgers had to sit behind Favre and after backing up Brett Favre for the first three years of his NFL career, Rodgers became the Packers' starting quarterback in 2008 and won his first SB in 2010! Despite Favre not helping out, Aaron Rodgers learned a lot from just being on the same team with Favre and developed his confidence and game the three years he waited!
So I ask you is it worth the wait if Josh Rosen can be the next Aaron Rodgers? Not saying it needs to be 3 years but in 3 years Josh Rosen will be 25 years old! The age I feel most QB's reach maturity.
I want Josh Rosen to get fully comfortable and be ready to run this admitted complicated offense so here we have a 22 year old kid who had a nightmarish rookie season under a dysfunctional team who dumped him to the Dolphins for Pennies on the dollar and now our fellow fans want to throw this kid into the fire.
I say let's slow cook Rosen, turn the temperature down, allow him to get some air, allow him to relax and settle down. The kid has the talent, he has a great arm, he is highly intelligent, he has all the tools he needs and now just needs to be coached up and developed.
The Dolphins have the coaches in place to teach this kid and sitting behind a seasoned veteran like Ryan Fitzpatrick is exactly what needs to be done with this 22 year old kid!
So what's the rush to start him right away? The Dolphins management says they don't need him starting to evaluate him and to determine if he is the one we all hope he will be, so a little more patience and allowing this kid to get things together is worth a try.
I know how frustrated many of us are, how many years have we been sitting back and waiting for an opportunity to get a franchise quarterback? We just spent seven years wasting our time thinking it Ryan Tannehill would be the answer.
I'm hearing some Tennessee fans thinking that Ryan Tannehill's the answer, good luck on that one! I don't even want to go there….
I want to concentrate on what we have now, I am looking forward to Ryan Fitzpatrick playing and developing and helping willingly or unwillingly in Josh Rosen's  development, Fitzpatrick is a very intelligent quarterback with a lot of playing time on his resume. He will be fun to watch and who cares how many games he wins the more the better!
Unless a major injury happens or we are near the END of the 2019 season and have nothing to play for, then it would be nice to see how the kid has developed.
If the Dolphins feel  Ryan Fitzpatrick is the starting quarterback, I wouldn't be so upset and I'm not going to write articles about some how (22 year old) Josh Rosen is a failure if this year he is not starting.
I'm hoping that he don't start this year, maybe play in the preseason to get some reps, I want him to know this complicated offence inside and out, what is it going to hurt to wait another year or two before we unleash who could potentially be our franchise quarterback for years to come.
As much as we want these young kids to turn into something right away sometimes it is better off to allow things to slowly cook just like a good steak allowed to cook slowly so you don't ruin this kid's future due to impatience.
Fins UP!