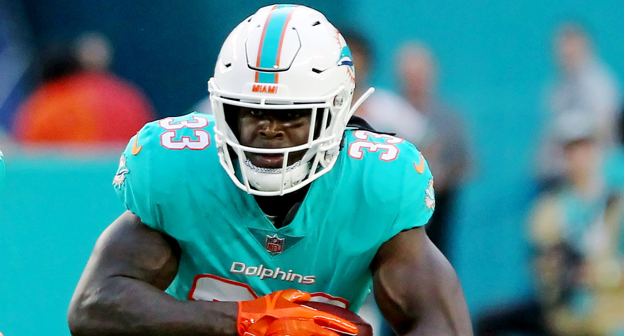 With the 131st  pick in the 2018 NFL Draft the Miami Dolphins selected Kalen Ballage RB Arizona State.
In some of the draft previews he was a sleeper prospect with the potential to be a steal….and he did not disappoint when given an opportunity to display his talents. He truly was a steal and with Frank Gore moving on  and hopefully Kenyan Drake out of the dog house Miami might have two of the most versatile and talented RB's in the league in the same backfield.
Kalen is just scratching the surface, the only issue I had was we did not get enough of this talented RB his rookie season. I would not look to far ahead if I were Kenyan Drake because this kid is just as talented in fact with Drake running 4.45 forty he is just a fraction of a second faster than the 4.46 forty that Kalen ran at the combine.
Miami have two young studs and baring injuries they can wreak havoc coming out of the backfield with both having similar skill sets that they can run, catch and hit a home run  anytime on the field.
This pick was a great pick and I look forward to the battle in camp and seeing Kalen get more opportunities to display his talent.
Our RB position is in good hands!
Grade A+