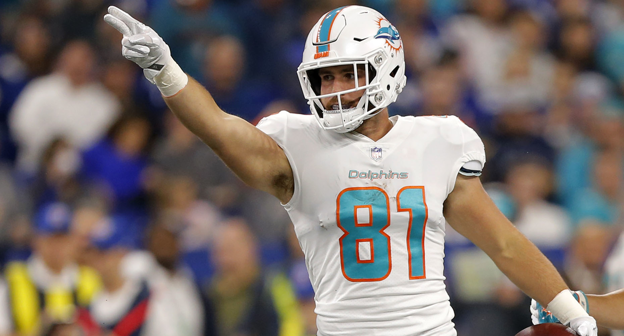 "It's a big jump and a big transition from the college game to the pro game as far as being able to consistently opening those holes," Smythe said this week. "But when one or two happen and some of the hard work shows up on the field, it's really exciting."
With the 123rd pick in the 2018 NFL Draft the Miami Dolphins selected Durham Smythe TE, Notre Dame. Durham was the 2nd TE drafted along with our 2nd round pick TE Mike Gesicki. I actually like when Miami double up on a position of need in the draft and I hope they will do it again this year with the QB position…
Durham Smythe was considered a better Blocking TE of the two rookies drafted but he just like his peer did not want to be labeled as if he could not catch. Both Rookies had a sharp learning curve and now that the Dolphins have a new coaching staff along with signing some quality veteran TE's to compete in camp it will hopefully help in the development of our young 2nd year TE's.
With a lot to learn at a position that requires knowledge of blocking and receiving  Durham Smythe seems to want to do well which is half the battle!
I am looking forward to his 2nd season and how he competes for playing time in a loaded room of TE's.
Grade B