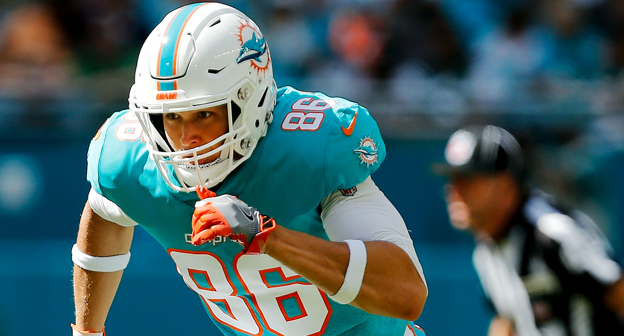 With the 42nd pick in the Second round of the 2018 NFL Draft the Miami Dolphins selected Mike Gesicki TE, Penn State.
In a move that was desperately needed the Dolphins drafted TE Mike Gesicki with the hopes of developing the TE position with which they failed miserably in recent years overpaying broken down TE's who took the money and ran.
The Dolphins have not gotten this position right in years  with Charles Clay showing some limited skills only to see him take a big pay-day with Buffalo a few seasons ago (Miami was wise not to match that offer) where he has not lived up to the pay.
Mike Gesicki was touted as a very athletic TE coming from an established program but lacking in blocking skills. He is considered a legitimate pass catching TE that can help out in the redzone. His rookie season was nothing special and he was constantly hounded about his poor blocking skills of which he worked hard to improve and being that the Dolphins doubled up on the TE position and drafted a TE that was considered a very good blocking TE two picks later in last years draft it seemed a very good move as both young TE's can help each other progress as they both have opposite strengths and weaknesses that you would think they would be able to help the other out.
Unfortunately Adam Gase's offense was not very effective as a unit and both our young TE's had pedestrian numbers. They both will enter the 2019 season with some depth and competition at that position as the new coaching staff obviously value the TE position more than the previous one.
Overall Mike Gesicki has an excellent chance of being developed into a sold pass catching TE and just might turn out to be our version of the retired Rob Gronkowski (OK I might be stretching it a little bit) I do feel we have yet to see his best games that are ahead of him if he can stay healthy and learn his position with the new coaching staff and continue to work hard at his weaknesses he just might turn out to be what we all had hoped we got when drafted high in 2018.
Grade B