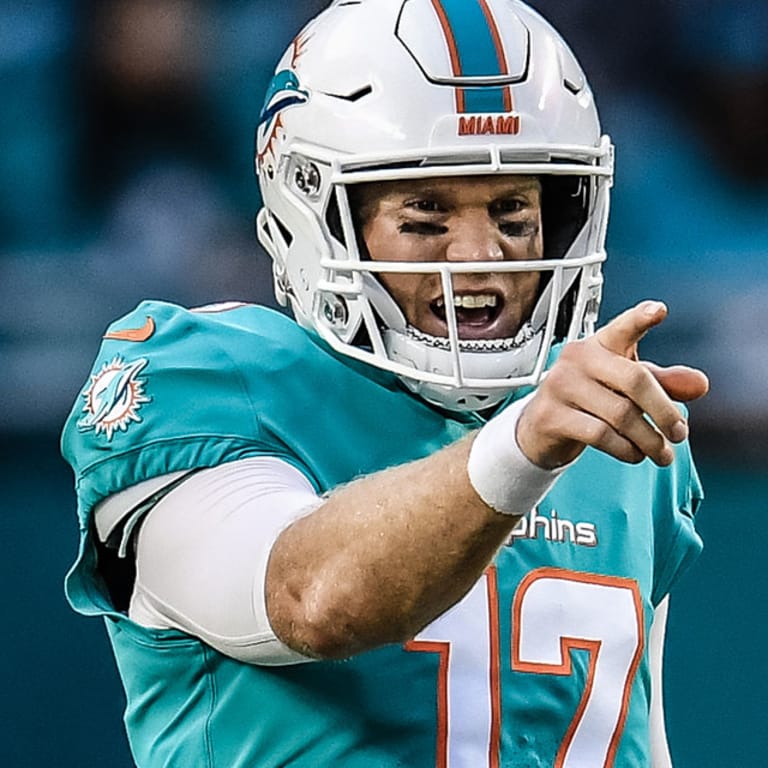 Just when I was ready to show Ryan Tannehill the door and proclaim it's time to move on from Tannehill he throws a monkey wrench into the mix and now he has me second guessing  my recent stance on our very frustrating QB.
I don't know if you all have been paying attention but Ryan has been playing some of his best football in a Dolphins uniform over the past 3 weeks, it all started after he came back from his shoulder injury against the Indianapolis Colts despite the Dolphins losing the game Ryan Tannehill played well.
Ryan threw for 204 yards, tossed 2 TD's and zero Int's with a QBR of 119.4 against a quality opponent on the road. Now it would have been nice if he'd matched the intensity of Andrew Luck who threw for over 300 yards and 3 TD's but keeping in mind Ryan had just came back after missing the previous 5 games due to a shoulder injury that from all reports is not 100%.
The next game at home against Buffalo Ryan Tannehill threw for just 137 yards, tossed  3 TD's and 1 Int with a QBR of 103.6 in another game that he should have played better but did enough to win the game.
Ryan played his best game last week as he played a top team in the NFL the Patriots and he had one of his career best performances throwing for 265 yards, tossed 3 TD's and Zero Int's, with an almost perfect QBR of 155.2!
Ryan has played very well at home throughout his tenure with Adam Gase. Ryan is 13-8 playing under Adam Gase, so he is playing his best ball under Gase and there is an argument to be made that Ryan just might be worthy of coming back next season if the Dolphins brass deem him worthy and I am sure the jury is still out as these last few weeks play out to determine Tannehill's Dolphins fate.
If this team wins out and makes the playoffs it will be a lock that Ryan will be retained especially if Tannehill can play with consistency these last three games starting tomorrow against the Vikings in Minnesota.
There is plenty of arguments to be made against Tannehill as his overall win/loss is 42-43 and the very essence of mediocrity and after 7 seasons some have run out of patience including yours truly.
Here is my honest assessment of Ryan Tannehill.
He is a good QB middle of the road player who does not excel enough to make a difference he lacks consistency and he has an abysmal record against good teams and also on the road.
Ryan will never be the reason the Dolphins win against the better teams in the league it requires more than him to make that happen. Unlike a Tom Brady, Drew Brees or Aaron Rodgers, Tannehill is more in line with a Trent Green, Alex Smith and Kirk Cousins of the NFL.
The Dolphins will never win against the better teams on any consistent basis with Tannehill but the question is how will they fare without Tannehill?
I have called for Miami to cut ties with Ryan in some of my latest articles on Ryan Tannehill especially after the 4th game of the season when he played one of his worst games of the season in a blowout loss up in New England where he threw for 100 yards, zero TD's and 1 int with a QBR of 47.9!
We need a QB who will go up in New England with no fear and play his best game and come out with either a win or at least put some fear into the Patriots.
The facts is that we will never get from Ryan the consistent play that we need to be a playoff contender and a team with a legitimate chance to topple  New England from atop the Division.
Being a perennial .500 team under Ryan has caused more harm than good as this team always end up drafting too far down the pecking order to draft a top young QB prospect without giving up way too much to move up the draft board.
So I am still at the mindset that Miami NEEDS to do whatever they can to draft Ryan's replacement and also maybe look to dump his high salary for a veteran FA that will cost far less to man the position until the rookie we draft can step up and play.
The Dolphins and  New England are behind the Jets and Bills when it comes to the future at the QB position as Tom Brady as much as he wants to continue playing is showing signs of his age and I can see him hanging it up somewhere in the very near future and the Dolphins are better served to look at other options at QB as soon as this offseason because Ryan Tannehill is just not the answer.