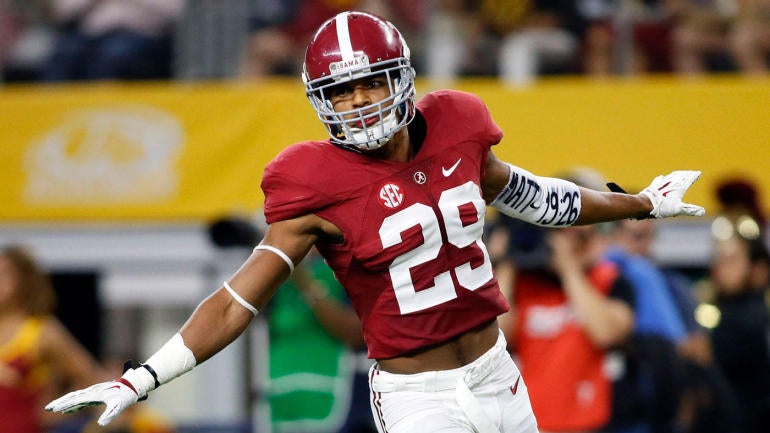 Overview:
Fitzpatrick turns up the intensity level as high as it will go and rips off the knob until the game is over. Fitzpatrick has experience as a slot cornerback, but will likely be targeted as a "do-everything" safety who can be deployed as a sub-package linebacker, a blitzer or in the slot against big receivers and move tight ends. Fitzpatrick has consistently shined since his freshman season on Alabama defenses that have been loaded with NFL talent. His versatility, football character and desire to succeed should make him an early starter.
Strengths
Loves ball, lives ball
Extremely competitive play demeanor with a history of showing up big in the biggest games
Versatile chess piece with experience all over the field
Can step right in and cover the slot, play high safety or handle nickel linebacker responsibilities
Good feet with ability to transition backward and forward smoothly around the field
Gets to top chase speed quickly
Can become rangy safety
Able to stick a foot in ground and drive to the ball
Plays with "ball-man" vision of an off-ball defender in basketball
Has awareness from zone to make loads of plays
Has nine career interceptions and four pick-sixes
Has downhill mindset as a hitter
Plays off of blocks and into tackling position
Dangerous blitzer off the edge
Attacks line of scrimmage from high safety look in run support and welcomes physical challenges
Special teams ace with 22 career coverage tackles
Weaknesses:
Plays with some hip tightness that limits lateral agility in coverage
May not have pure cover talent to play full-time cornerback
Allows some separation out of breaks
Feet are more quick than explosive when chasing receivers from the top of the route
Still needs to improve his awareness when asked to play deep safety
Has to learn to dial back urgency and play with more patience on the next level
Comes in hot as tackler and will run himself out of position to finish
TDS Take:
I have a problem with this pick, not against this kid, I have no doubt he will be a solid player maybe even a pro bowl player, the issue I had was Miami did not need a Safety more than they needed a OLB and with my projected player on board OLB Tremaine Edmunds who I felt could develop into a very solid LB maybe even a perennial pro bowler, he would have completed our Defense. 
I see Minkah rotating early and eventually supplanting one of our Safeties or Nickel Corner Bobby McCain.
He has a very good pedigree coming from Alabama and will most likely get along well with fellow Alabama and starting  RB Kenyan Drake.
WELCOME TO MIAMI Minkah Fitzpatrick!