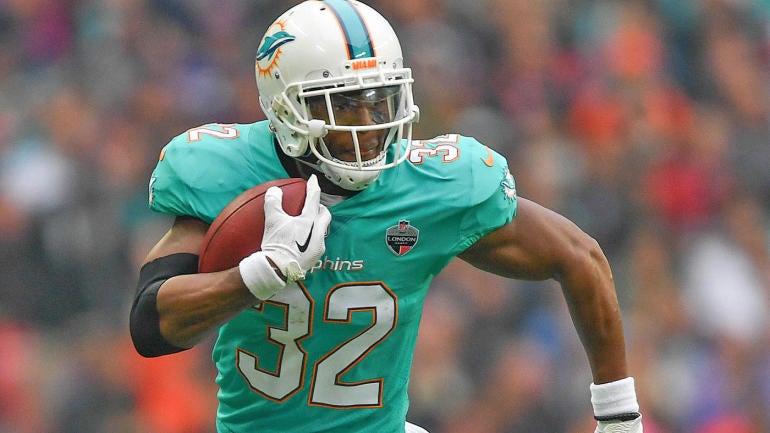 I don't spend a lot of time on my ability as your Dolphin Seer but this time I'm going to toot my own horn. I wrote an article a little over a year ago after watching Kenyan Drake run the football and I made the comment in that article ( here ) that Kenyan Drake might be the best running back on our team because what I had seen from him is what you see from the best running backs in the league throughout time. Backs that can run fast catch the ball adequately and make people miss as well as have the body and size to run over people if needed and even though I think Drake  needs to add a few more pounds of muscle in the off season, I feel in the short window of time that he's played he's shown enough to be our feature running back going forward.
For the life of me I don't understand why Adam Gase has this Infinity for Damien Williams and gave him the opportunity to prove his worth ahead of the more talented Drake, no knock on Damien because I think he is a very hard-working player well-liked by the coach but anybody with eyes can see that Kenyan Drake is a better running back.
I went out on the limb and over a year ago and said (even with Jay Ajayi on the team) Kenyan Drake was the best running back we had on the team, fast forward to this season when just about halfway through the 2017 season Adam Gase  gave up on Jay Ajayi.  Many disagreed with  the decision to trade Ajayi, I just questioned the timing more so than the trade itself and the compensation seemed a bit low.
I was also excited for Kenyan Drake and I really thought that Adam Gase would immediately put Drake in as our starter but that did not happen, he put Damien Williams in. Williams did not prove to be the better than Kenyan Drake, in fact Damien Williams had fewer yards per carry and got injured during his short stint as a starter he just don't seem to have a size and a body makeup to me to be our featured RB.
On the other hand the short window of time that we've had Kenyan Drake running the ball as our starter he has exploded off the ball made 3 long runs and has two touchdowns (two more than Jay AJayi had as Miami's starting back)  and I don't know if you've noticed but I've been paying attention to him when he's in there blocking and the kid does a very good job of blocking, picking up blitzing linebackers.
I can only see Kenyan Drake improving and getting better as he gets bigger and stronger through off season development and as long as he can maintain his speed and in addition stay healthy, he should be our top RB and he was drafted in the third round by this regime for a reason.
With the ball in Kenyan Drake's hands figuratively and literally the Dolphins running game has been stout  and now it's up to him to not let it slip out of his hands  (pun intended) because the only knock on him so far is the couple fumbles that he's had this season. As long as he can clean that up and continue to get stronger we have our future starting running back  already on board and now it's just a matter of adding more running backs both through the draft and through free agency as well as undrafted free agents whatever they need to bring in to compete for  playing time.
The bar is set with Kenyan Drake as our starter and the RB position appears to be not as great a need as some my have thought when Ajayi was traded as Kenyan Drake has stepped in a big way and is truly better suited as an all around running back and the best news of all is if you follow Drake's history he has less wear and tear on his body as he was always playing a backup role from his college days at Alabama so he has a lot of miles to burn .
Miami's RB situation is not as good as the receivers but  it is not as bad as once though with the emergence of Kenyan Drake….one more thing…is it me or does Kenyan Drake look a little like a young Bo Jackson?